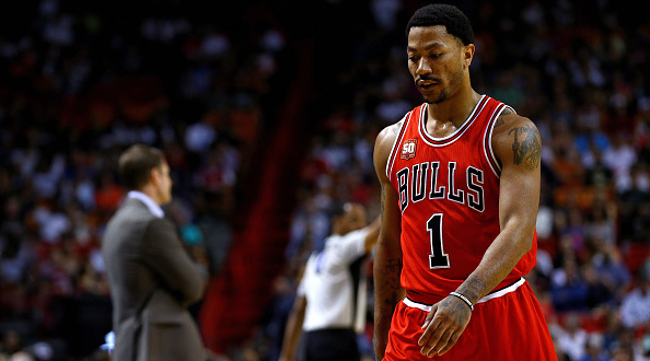 On Tuesday, ESPN's Marc Stein reported that the Minnesota Timberwolves were trying to put together a deal that would send the No. 5 pick in this draft to Chicago in exchange for Jimmy Butler. It sounded far-fetched from the beginning, and it was later reported that the Bulls wouldn't entertain any such trade if it didn't potentially include sophomore swingman Andrew Wiggins.
That's likely a bridge too far for the 'Wolves, and the Bulls have since insisted that Butler isn't even on the trading block. According to Steve Kyler of Basketball Insiders, Chicago is much more open to the idea of dealing the other member of their star backcourt:
League sources in Italy say the Bulls are actively open to moving guard Derrick Rose and that seems to be the first choice rather than shopping Butler.

Rose is entering the final year of his deal and has commented numerous times on the ballooning salary cap and his next contract, much to the dismay of the Bulls front office and a large number of Bulls fans. Add that to an on-again, off-again intensity and there is a sense that both sides would welcome a change, especially with Rose entering a free agent year.
After a disappointing season that ended with them narrowly missing the playoffs, the Bulls have been the subject of all sorts of rumors surrounding Rose, Butler, Joakim Noah, and Pau Gasol. Rose's injury history, combined with chemistry issues with Butler (on and off the court), could spell the bitter end of the Chicago native's tenure with his hometown team.

But the problem is that Rose still has a year left on his current contract and has openly spoke of his desire to take advantage of the booming salary cap by signing an über-expensive new deal. That's a hard sell for any prospective team given the way his health issues have limited his all-around effectiveness, exacerbated by what appears to be his reluctance toward accepting a diminished role in the offense. Money-wise, a lot of teams also just simply don't have the cap space to take that kind of hit to begin with.
Given the aforementioned year remaining on his deal, any team that takes him on will effectively only have him on loan until next summer when he becomes an unrestricted free agent. That's a gamble some teams would definitely be willing to take if they believe he can recapture some semblance of his previous MVP form. The big question, though, is whether the Bulls can get adequate value in return.
A small handful of destinations have been floated around recently, such as the Knicks and Sixers, both of whom have cap space and assets galore to work with – especially the latter. But make no mistake, this won't be an easy process. It's a highly fraught situation, both emotionally and financially.
As a hometown kid, Rose was heralded as the savior of the franchise early in his career. That alone will make it difficult to trade him, and not just from a sentimental standpoint. The front office will feel tremendous pressure to get something big in return. And their asking price just might be too steep for a lot of potential trade partners.