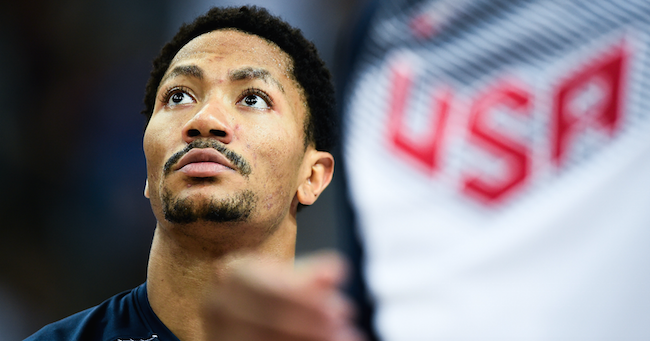 A host of NBA superstars have already committed to this month's USA Basketball minicamp. Though players need all the time they can get to rest during the offseason, the casual nature of the upcoming proceedings – in addition to general excitement gleaned from suiting up for the national program – make them more palatable than normal. But not every member of USAB is quite so keen on limiting time off with 2015-2016 fast approaching.
According to Nick Friedell of ESPN, Chicago Bulls star Derrick Rose is "still undecided" on whether or not he'll attend the minicamp.
Chicago Bulls star guard Derrick Rose is still undecided about attending Team USA's minicamp, according to league sources.

Rose has indicated in the past that he would like to play for Team USA in the Olympics, but sources told ESPNChicago.com that he is weighing the potential benefits of taking more time off before the start of Bulls training camp in late September.
The 26-year-old played on the gold-winning World Championship squads in both 2010 and 2014. He was on track to make the 2012 Olympic team, too, before tearing his ACL in the opening round of the playoffs mere months before the Games began.
Should he elect to attend the minicamp in Las Vegas, Rose's chances of traveling to Rio de Janeiro with USA Basketball could be slim. He simply isn't the same player he was before that initial knee injury led to so many subsequent issues, and managing director Jerry Colangelo and coach Mike Krzyzewski certainly aren't short on options at primary ballhandler. That Rose often struggles to play an ancillary offensive role makes him a questionable fit on an upper-tier Team USA, too.
Colangelo recently said that attendance at the August 11-13 training sessions is mandatory for those who wish to be considered for Rio. Given Rose's longstanding health concerns combined with his unlikely odds at a roster spot, it would certainly make sense if he ultimately decides to sit out this go-round with USAB.
[Via ESPN]