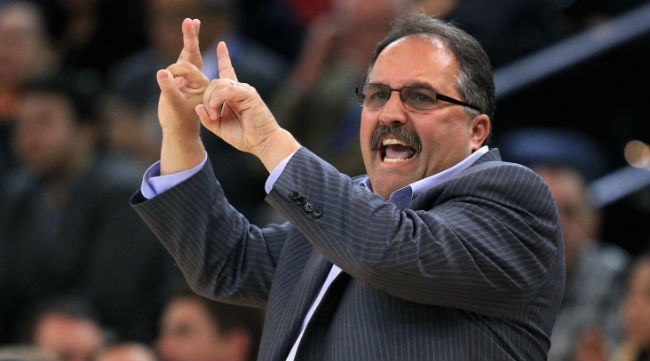 The Detroit Pistons are in a bit of a weird spot. Their starting point guard is Reggie Jackson, who has been excellent in his first full season in the Motor City. Through 36 games, Jackson has helped lead the Pistons to a 20-16 record while averaging a team-high 19.8 points per game. He's also done a great job setting up his teammates, as he leads the squad with 6.4 assists a night, which has led to quite the partnership between himself and Andre Drummond on pick-and-rolls.
There is a minor issue: after missing most of the start of the season while working his way back from a torn Achilles tendon, Brandon Jennings is back in the fold. Also a point guard, Jennings is kind of like Jackson – he thrives with the ball in his hands and has the potential to be a big-time scorer, but he's not quite big enough to play off the ball consistently. In fact, the emergence of Jackson has led to Jennings' name being floated around in trade conversations.
Still, both are really talented guys, and according to Pistons coach Stan Van Gundy, he is working on ways to get both guys on the court at the same time.
"We're already in the thought process of things we can run playing he and Reggie together at times," Van Gundy said. "That's something we'll be ready for. It'll probably be a while before we get to that – but probably not a long while."
The good news with this arrangement is that outside of Kentavious Caldwell-Pope, the Pistons don't have much at shooting guard, so it is conceivable that Van Gundy could try some really fun, fast-paced small-ball lineups where both Jackson and Jennings take the floor. The downside is they're pretty similar players, and while Jackson has been great this year, some would say Jennings has been better over the course of their respective careers. If they aren't able to play together, it could lead to one guy spending more time on the bench than they'd like, or maybe even a trade.
As Van Gundy said, it would likely take some time for that arrangement to work itself out, but if it did, Detroit could end up having one of the most entertaining backcourts in the league.
(via NBA.com)