Must a team meeting always be such a bad thing? When the Detroit Pistons sat down with each other to discuss their blowout loss to the Indiana Pacers on Friday, it was done so with good intentions. They wanted to communicate what went wrong and how to fix them. This should be business as usual right?
"I've been in meetings on every team." Jose Calderon told Dime. "Meetings that sometimes the media knows about. Sometimes they don't. You have meetings after practice sometimes cause you need it. That doesn't mean it's bad or you need to worry … Sometimes people think when there's a team meeting, 'Oh there's trouble, there's problems, guys don't like each other.' It could be that in some situations, in this case it's totally the opposite."
The problem for Detroit is that, despite all good intentions of the meeting, it came at a time when things are very obviously not okay. After a 13-7 start to the season, the Pistons have crumbled and lost 11 of their last 13 games. They finished out 2018 on Sunday with a loss to Orlando that easily could have been avoided. The Magic were bruised and vulnerable, and the Pistons walked into Orlando one month earlier and closed out a win. It shouldn't have been any different this time.
Orlando was without Jonathon Simmons after he injured his ankle early in the game, and D.J. Augustin was hobbling around late due to an ankle injury himself. The Magic were clearly trying to avoid relying on their bench too much, as it had been a major weak point for them all season. The Pistons exploited this and, despite their starters being largely outplayed, clawed back from every deficit. With less than 10 seconds to go they were in a position to force a turnover, or foul, and get the ball back. They brain farted.

But the Magic handed it right back to them. On the next possession, Orlando fouled the jump shooter, and three Reggie Bullock free throws tied the game. Detroit could win it in overtime with just one more stop, but instead, they forgot to cover Evan Fournier.
Miscommunications like this plague teams that are losing. For Detroit, this loss couldn't have come at a worse time. The Pistons have to travel to Milwaukee on Tuesday and then they face seven Western Conference teams in a row, including a trip out to California.
By the time the Pistons have another game you'd argue is truly "winable," the Magic once again on January 16, they theoretically could be in the midst of a 10-game losing streak. None of those games are gimmes for this Pistons team. This doesn't mean they can't win them, but the great teams need easy wins to survive the harder stretches. Those are the teams that make the playoffs.
To the Pistons' credit, they say they aren't panicking. Even after the tough loss, most players were speaking optimistically about the future. They know they can play better and they believe that they're going to turn things around.
"Our chances are really high," Langston Galloway told Dime. "We got a lot of different talent around the room. I think that's the main thing that coach Casey has been preaching. Just stay locked in and push forward no matter what's going on."
That doesn't mean, however, that it will be easy.
"It's so difficult," Stanley Johnson told Dime. "Cause sometimes you play a perfect game and you still lose. Sometimes you think, like, 'What did we do wrong? We didn't do sh*t wrong. We just lost.' They went for 50. Sorry. Tonight is not your night. Just learning how to stay with your system and stay with what you're taught in practice day to day is how you learn how to win at a high level is what I believe."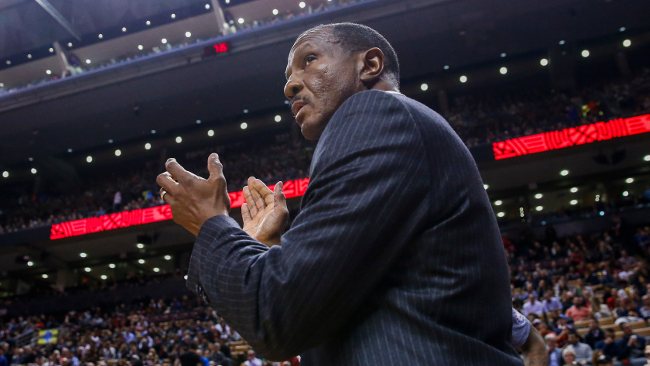 This isn't the first time the Pistons have started hot only to falter later on — it happened multiple times under former head coach Stan Van Gundy. While Van Gundy had to deal with injuries, there was also a sense, based on media reports at the time, that he was losing the locker room. Dwane Casey, on the other hand, has his players thinking positive.
"One thing you don't want to do in (this) situation is lose confidence," Casey said. "I think that's the first thing that wanes. You say 'oh woe is me, same thing happened last year' and all that. You lose confidence. You got to maintain that confidence in this league or teams will oblige you and take it away from you."
The Pistons are losing, but that confidence and positivity is keeping them going. They aren't turning into a locker room that's quit on themselves. Casey's strongest strength as a coach is keeping a locker room together. For years in Toronto, he took a rotating cast of players and found ways to get wins out of them.
In Detroit, he's still trying to find the balance of Blake Griffin, Reggie Jackson, and Andre Drummond. There are moments where it looks like it's all coming together, then there are times, like now, where it feels like Detroit would be better off starting over. It's just important to remember that this team is still getting used to each other.
"This is the first season with Blake Griffin," Johnson said. "First season semi-healthy. Just the additions. We were missing a lot of the veteran people. We got Zaza [Pachulia] and Jose and bring a veteran mind to the game which is really really helpful. Now we have a complete team. You wanna have veterans, young guys, established players still in their prime. We have that here now. Now it's just getting used to going out consistently and beating people's asses consistently. You have to get used to winning a lot.
"We haven't learned (how to win) the last couple years." Johnson continued. "Having a guy like Zaza here that has won at a high level and understands that, 'Alright guys we need to take it to another level now. This is what better teams do.' Given that perspective for us, people like me a young guy that doesn't really know how to win it's been really beneficial for us."
The Pistons are managing to stay positive during what could be the toughest part of their season. They're playing a lot of tough teams and injuries have hit them at a bad time, but they're saying the right things. It's easy to forget how much of this roster and coaching staff is still trying to implement systems and find an identity, which takes time.
Lucky for the Pistons, they're in the East. Despite all these losses, Detroit hasn't even fallen out of the playoff race yet. There's still time to pull everything together, but the clock is ticking. This spiral needs to end, or panic will eventually, inevitably, set in.