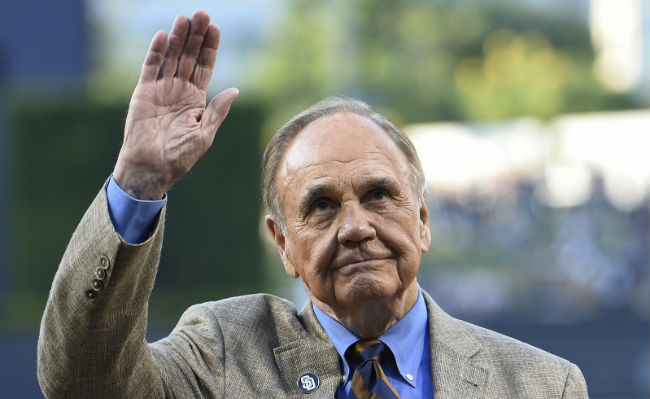 Legendary broadcaster Dick Enberg died late Thursday night at the age of 82. His family announced the broadcaster's death early Friday morning, which led to an outpouring of grief on social media from fans and broadcasters alike.
In an age of intense criticism for anyone in sports media, it's hard to find people who didn't respect or outright love Enberg. He was the voice of countless major sporting events across a wide array of disciplines. The broadcaster for the San Diego Padres, he was also the unofficial voice of Wimbledon, covering 28 events at the All-England Tennis and Lawn Club. He covered 10 Super Bowls, eight NCAA men's basketball championships and was there for many of UCLA's men's basketball titles under John Wooden.
His signature exclamation — "oh my!" — will long be remembered by sports fans when they reminisce about a big moment in a game.
Many expressed their grief over Enberg's death and their heartfelt memories about the legendary broadcaster late Thursday night and Friday morning as news of his death spread. For many, he will always be a part of Wimbledon.

Many shared stories of his kindness over the years and how he impacted young broadcasters and those in media.
But for most, it was simply the way he made sports sound so damn fun.
His storytelling, and the way it so seamlessly wove its way into a broadcast, was brilliant.
There won't be another Enberg in sports, but the impact he had on the industry is unmistakable. I'd expect to hear a few "oh mys" in the coming days.