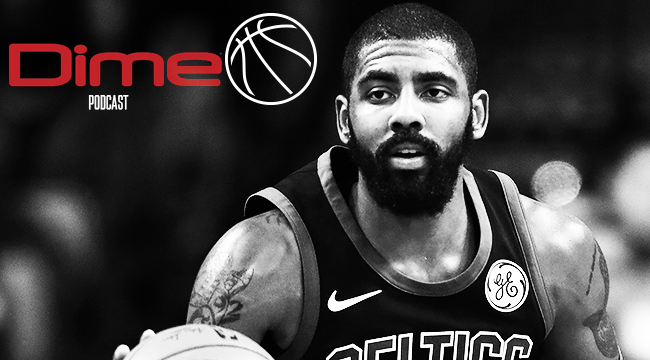 Hello, friends. It's time for another episode of the Dime Podcast, and this week we're joined by Chris Herring (@Herring_NBA) from ESPN and FiveThirtyEight to discuss everything going on in the Association.
This week we talk about all manner of topics, from Kyrie Irving's success with the Celtics being statistically similar to his production in Cleveland and at the same time being more impressive to Jimmy Butler and Andrew Wiggins learning to play together to Phil Jackson stories. But first, we have to dive into Woke Kyrie and how he's definitely going to pick up a British accent in London.


Here's the full rundown for this week's discussion:
Kyrie Irving for sure coming back from London with a British accent
Kyrie's sudden wokeness/weirdness
A conversation Chris had with Kyrie where he realized some of the LeBron-Kyrie tension
Why Kyrie's production in Boston is so impressive despite it being so similar to last year's numbers in Cleveland
Kyrie Irving, MVP candidate?
Al Horford, master of the illegal screen
How Marcus Smart can be so bad offensively but still really helpful for the Celtics
Jimmy Butler's impressive season
Andrew Wiggins having to learn to fit in with a star coming in on the wing next to him
How Chris comes up with his unique story ideas
The time Chris flew to Atlanta just to ask LaLa if Carmelo Anthony really plays chess
Jusuf Nurkic getting hit in the face a bunch and Boban Marjanovic being the league's most efficient scorer
Tales from the Knicks beat and covering Phil Jackson
Why All-Star is the best time to talk to stars that aren't megastars
And much, much more!
Please subscribe to the pod everywhere and anywhere you listen (Omny, iTunes, Google), give @Dime_Podcast a follow on Twitter and let us know what you're thinking about the show or if you have questions or potential guests, shoot us a note to dimepodcast@uproxx.com, and keep an eye out for future episodes. We're figuring this out as we go, but we're happy to have you along for the ride.