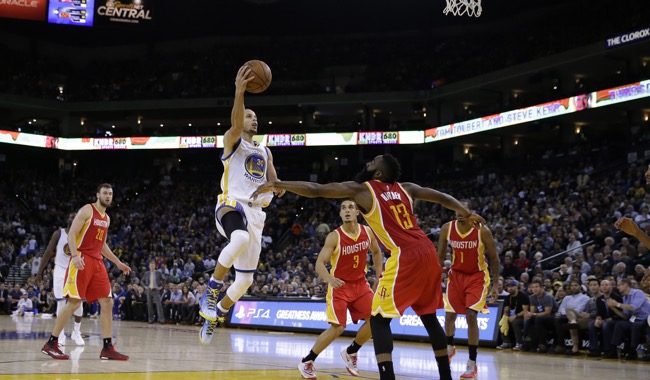 Spencer Lund: The 2015 NBA MVP is Stephen Curry. That's it. Boy, that was easy.
Martin Rickman: Wrap it up, gentlemen. The roundtable is over. Way to go Steph. Please come and collect your award.
Jack Winter: Perfect. There was no legitimate discussion to be had here anyway.
MR: So what are we going to do now? You guys want to go get some frosty milkshakes?
SL: Oh man, I'm always game for milkshakes.
JW: True Burger in Oakland – just 10 minutes from Oracle Arena – has the best shake in the East Bay. In celebration of Steph's MVP, this one's on me.
SL: Maybe we should at least bring up James Harden. It's a two-man race anyway. Sure, we can add Anthony Davis, Chris Paul, Russell Westbrook and LeBron James to the list of challengers, but it's Steph and Beard and Steph is the winner.
JW: Curry and Harden are well ahead of the pack, and the former has a clear and seemingly insurmountable lead on the latter. We all agree there, obviously, and I'd be floored if the voting results came back any other way. But the finish of each candidate matters to their historical legacy, and that's where I fear Paul will be disrespected. Talk all you want about Westbrook's unparalleled production, Davis' record-setting efficiency, and James changing the culture in Cleveland. Fine.
But there's an argument to be made that Paul has been the best two-way player in basketball this season, and it's a possibility that's supported by career-best shooting numbers and a likely First Team All-Defense selection. CP3 has been absolutely brilliant all season long – he played in 82 games for the first time ever – but still overshadowed by the improvement of other perimeter stalwarts, Davis' rise to nightly dominance, and LeBron going home to win a championship. Curry will be a deserving winner and Harden an equally worthy runner-up, yet I find it hard to believe popular narrative hasn't helped lead us to that conclusion and further away from Paul than we should be. And that's not fair, obviously. But I'm sure you can make a similar case for players other than Curry and Harden, too.
MR: You guys are discounting LeBron a bit too much here. And this isn't to say that I'm going to ultimately go with King James. But his production at such a high level has everyone spoiled. He played through injuries early on in the season, sure, and you'll get people making the case he basically took "two months off," but this was never about the first two months of the year for the Cavaliers. The Return put an immense amount of pressure on James, who was playing with a bunch of people he'd never played with before (except for Mike Miller, James Jones and Anderson Varejao, who of course got hurt, because getting hurt is what Anderson Varejao does) and had to fit in three stars along with a brand-new NBA coach who had exactly zero minutes as a head coach in the NBA. This is no small feat. And to do so while putting up 25.3 points, 7.4 assists and 6.4 rebounds and shooting almost 49 percent from the floor (and 35.4 percent from deep) is ridiculous.
We are numb to LeBron James. This is kind of a problem. I don't know how you quantify the 'V' in MVP, but in terms of value to the franchise and to the city, James coming back to Cleveland is a little unparalleled. To do so, and put up those numbers, while meshing with Irving and Love, adapting to Blatt, and dealing with the immense expectations everyone has of him in coming back to Cleveland in the first place is something we should probably acknowledge a bit more. That's all I'm saying.
JW: I'm with you there, Martin. LeBron has been typically dominant and remains the most influential player in the NBA. We really are numb to his greatness by this point, and the same can be said – at an admittedly lower level, yes – to that of Paul's. They're that good and have been for that long, whereas every other realistic candidate made an obvious on-court leap this season. The MVP shouldn't be decided by storylines or expectations, but that's what this award has come to – and it's really hurting the cases of LBJ and CP3. Do you feel as strongly about another player as Martin and I do, Spencer?
SL: I thought we were getting milkshakes? Since you both lied to me, and there are no delicious milk and ice cream treats, I guess we'll go back to the MVP award (which I thought we had all decided). Both LeBron and CP3 deserve some DAP for their years. Paul more so because he played in every game and was so strong for the Clippers when Blake and Jamal Crawford – their primary scorers outside of Paul – both went down with injuries for extended periods this season. And you're right that Paul should receive even more credit because he's a two-way player, though Curry and Harden both made strides on the defensive side of the ball this year (Curry was fourth in the league in steals, which Jack is going to scoff at as an irrelevant stat — it is in this day and age). As for defense, it's worth nothing Curry is No. 5 among NBA point guards in defensive real plus-minus and Paul is No. 10. But then again, Ricky Rubio is No. 1 in DRPM among PGs so it's not a be-all stat, just something I wanted to add.
While I appreciate the tenacity with which Paul hit the court this season, Stephen Curry is the MVP and it's not even that close. Kevin Pelton did an excellent job breaking down the two-man race between Curry and Harden for ESPN (Insider only), but it's not the numbers so much as it's Curry's influence on the offensive side of the ball that makes me so comfortable giving him the award.
Curry's ability to distract the other team simply with his presence is incredibly rare. I can't think of anyone except last year's MVP and Michael Jordan who inspired that type of reaction from opponents (Steph isn't even close to MJ as a defender though). Everyone on the court has to be aware of him at all times, and that trigger is so fast, he's Raylan Givens, Boon and the Doc Holliday legend all rolled into one. He is so deadly from deep, it makes his dribbling exhibitions look that much more impressive. Do you see how many times a game he'll just look at the rim and his defender is so primed to get a hand in his face, they've already left their feet? That's fear, the same type of fear You Know Who used to rouse in his opponents, but please don't assault me for writing that. I'm not saying Stephen Curry is Michael Jordan, or even close, just that Steph's presence in the offensive half court reminds me of the way Mike made opponents so paranoid – and the trickle down from that defensive angst positively affected his teammates (at least once MJ started trusting them). On that last part, Steph has no problem. He'd much rather dish an assist then drop a pretty rainbow from beyond the arc.
It's the feeling I see from the other players sharing the court with him – plus the statistical data Pelton presents and Jack's piece on Steph's improved defense – that makes this whole thing void. Stephen Curry is your 2015 NBA MVP.
I think I'm gonna get a vanilla milkshake, but if they have a strawberry banana smoothie, I'll take that instead.
JW: A quick point about Curry and milkshakes: He's basically been the In 'N Out Neapolitan this season. Incredibly efficient production is the chocolate; wildly improved defense is the strawberry; and his all-encompassing offensive threat is the vanilla. If you want a cherry on top, look no further than the Warriors 67 victories – they're just the 10th team to ever win that many games. There just isn't anything missing from Curry's MVP case.
MR: Except, of course, a title. But until we give MVPs after the playoffs are over that doesn't really matter even a little bit.
SL: Dirk Nowitzki is nodding his head in agreement while THE HOFF is playing quietly in the background. Before we all go get milkshakes and maybe go play some ball in the park, I do want to add one thing about Anthony Davis.
MR: By all means.
SL: When the season started, I told anyone who listened (so basically just Jack) the Pelicans might make the playoffs. I really thought that if Davis was somehow able to get New Orleans out of the competitive Western Conference, he would probably win MVP. But his injury time and Steph/Harden's obvious improvement on both sides of the ball has changed that thinking. His own improvement is kind of head-spinning to think about, but KD was right last year – Brow is "next in line," it's just a longer line than we thought. Sorta like getting milkshakes on a hot summer day.