Dirk Nowitzki is a tremendously talented basketball player, but he has made some rather questionable choices over the years when it comes to his hair.
The German native has had many different styles during his career, some of which have stuck much better than others. In fact, the Big German has had so many haircuts that the folks over at Mavs Moneyball put together a tournament for Dallas fans to vote for their favorites. Unsurprisingly, the cut that Nowitzki wore during the Mavericks' championship run ended up the winner.
Dirk had possibly his worst hairdo ever just this past February, though, when he got clipped and ended up looking like Ellen DeGeneres.
The former NBA MVP had to deal with constant mockery from his teammates for months, but he finally explained how it ended up happening during an interview on KTCK AM The Ticket.
"So it was getting to the point, right around the New Year, we said together the family – we did the whole New Year's resolution thing. And I said one of the things I wanted to try was a new haircut. I saw it in a magazine, and this model had a cool cut. So I said to my guy 'can you pull this one off?' And he's like 'yeah, I think it will look good.' Man when he was done after 45 minutes … uh … it was … interesting. I tried to pull it off for a few weeks there. But it was so long in the front and during the game I kept pulling the hair to the side like I was some model. So I decided to just go short. You should've seen that day. I walked in for shootaround that morning and I think Parsons, unfortunately, was the first guy to see me through the doors and it was on from there. Whether it was Ellen DeGeneres, there were all sorts of things thrown around, but all in good fun."
In addition to explaining his awful haircut, Dirk also talked about his one-legged fadeaway. The iconic move was recently compared to another signature moves by an NBA legend. In fact, it was Dirk's No. 1 critic Kareem Abdul-Jabbar, and his unstoppable skyhook.
"Honestly, weird … weird. That Kareem shot to me, nobody will ever shoot it like that. I feel like my shot is easier to shoot. In a sense it's almost weird to have that shot in the same category as the hook shot because if you have a decent touch, some balance and if you have good footwork, add a little step back and it's a shot anyone can shoot. It's just creating a little separation with the one leg and then all you have to do is just get a good look at the hoop and get the ball up. It's weird to have that shot in the same sentence, and I think that's what pissed Kareem off a little bit this season when he made some comments about me. It feels weird to have that shot on the same level. "
Dirk is one of the most humble guys in the game, so, of course, he's selling himself way short. Kareem was way off in his criticisms of the 13-time All-Star, and Dirk's one-legged fadeaway absolutely deserves to be mentioned among the best signature moves of all time. It's not so easy to do either, just ask Kelly Olynyk.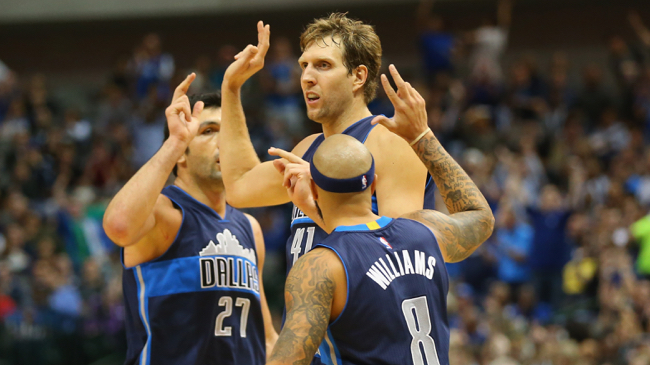 Nowitzki was also asked about the current state of the Mavericks and how they've failed to get out of the first round since winning the title in 2011. Dirk was forced to carry the load once again for Dallas this season after they only landed a still-recovering Wesley Matthews in free agency. It's likely his Mavs won't get close to another title before he's forced to retire.
Because of the failure of the Mavs' front office, Dirk has been getting a lot of sympathy from fans in recent years. However, Nowitzki doesn't want that pity; he still loves what he does.
As if basketball fans needed another reason to love Dirk Nowitzki. That's the absolute perfect attitude to have about his career. We all need to do a better job of appreciating his greatness before Father Time wins yet again.
(Via The Ticket)