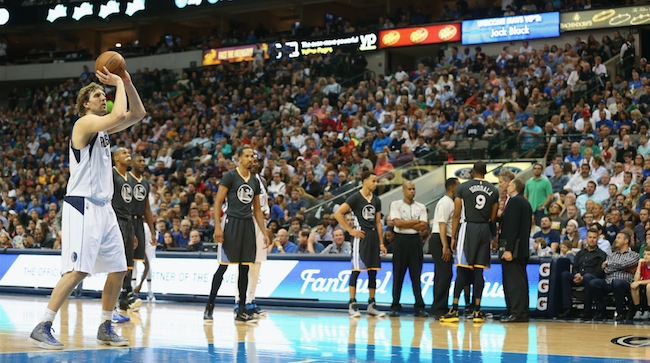 The Golden State Warriors are not taking this lightly. After losing a seven-game NBA Finals to LeBron James and the Cleveland Cavaliers, team management is reportedly already looking full speed ahead at how to improve their roster for next season.
In a report by the Bay Area News Group's Tim Kawakami, which describes the Warriors' outlook as "very, very aggressive," one of their targets in free agency may be Dallas Mavericks legend Dirk Nowitzki. Nowitzki is 38 and has an opt-out in his contract that he'll likely take this summer when the salary cap spikes, but it's not at all clear if he's keen on leaving Dallas, where he's played his entire career and become the kind of franchise-defining player that movies are made about.
The Warriors will primarily go after Kevin Durant this summer—this has been known for months. It's unlikely that either player leaves their longtime teams, but it's telling that the Warriors have both in their crosshairs. The organization wants badly to get back to the top, and they're hoping to do so by doubling down on the championship experience that's already in their locker room. An all-time killer like Nowitzki would have helped in a Finals when LeBron looked more seasoned and ready for the moment than anyone on the Warriors did.