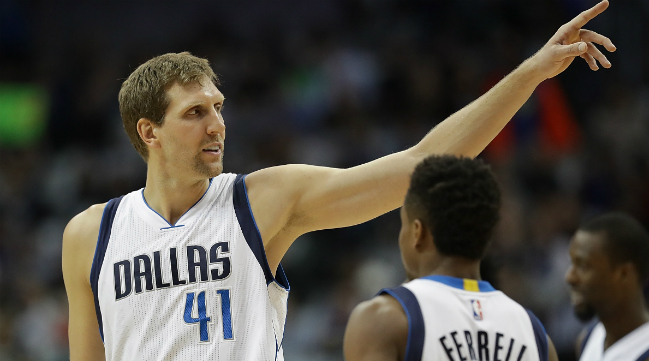 There are some athletes who should spend their entire careers with one team. Across the four major American sports, the guy who may epitomize this is the best right now Dallas Mavericks forward Dirk Nowitzki.
A draft day trade in 1998 sent Nowitzki to Dallas. Since that time, the best international scorer of all time has spent his entire professional career with the Mavs. This has been despite some sacrifice on his behalf – Nowitzki has taken less money in the past to help the team out in free agency, with one estimation from this past offseason putting the number at $80 million.
All of this begs a pretty basic question: Why is Dirk so loyal to Dallas, especially after a rough 2016-17 campaign which saw them finish eight games behind the 8-seed in the Western Conference?
During an exit interview after the Mavericks' season came to an end, Nowitzki explained this, saying that he "can't imagine myself in a different uniform."

Basketball is a business, and ultimately it's up to every player to decide whether they should stay with their current team or go elsewhere based on what is best for them. For most players, things like money or the opportunity to win a ring are the most important factors in their decision.
This is 100 percent fine (and, really, encouraged – go get paid or go try to win a ring if you want). But there is something really cool about a player saying that the most important thing to them is the fact that they have such a deep personal tie to their organization, so they never plan on going anywhere.
Plus Dirk is right – seeing him suit up for any other NBA team would be really weird. Good thing he doesn't sound like he's ever going to leave Dallas.