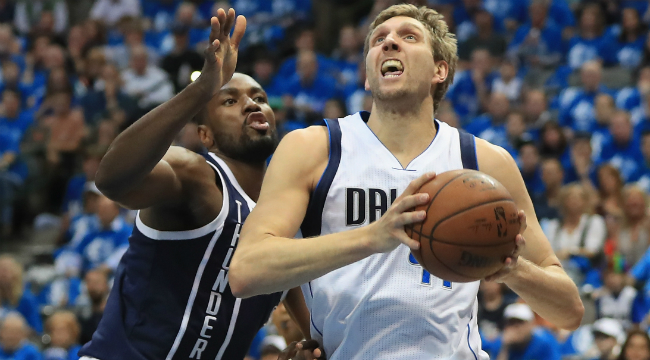 There was only the faintest hint of drama surrounding Dirk Nowitzki's free agency, and now that the Mavericks have brought in some more talent to surround him, that drama has ended. Dirk has reportedly re-upped with Dallas for a deal quite a bit richer than the previous one he signed:
With Kevin Durant in Golden State, the Mavericks are no closer to true title contention than they were last year, but with Harrison Barnes and Andrew Bogut in the fold and Wes Matthews already returning, they look to be an improved team from last year, even if they whiffed on their two top targets for the offseason in Mike Conley and Hassan Whiteside.
More importantly, the Mavs did so while bringing Dirk back at a contract that more closely approaches his value to the team. Based on his contributions to the organization, Nowitzki has done more than earn a maximum contract, but he's consistently shown that he's willing to take less money for the sake of a better team around him. With the salary cap rising the way it has and minor role players making eight-figure deals, however, it was time for Mark Cuban's franchise to do something about that value gap.