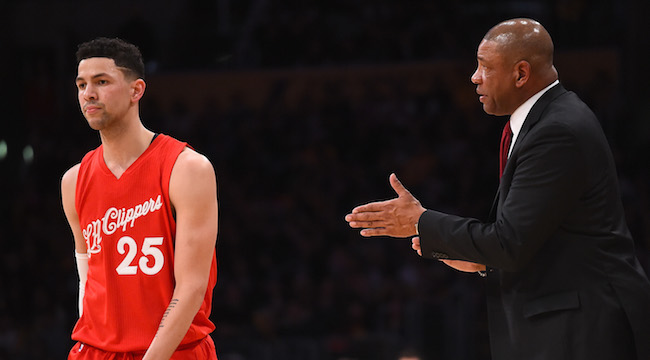 The Clippers have been linked as one of the teams the Knicks have approached as a landing spot for Carmelo Anthony, who Phil Jackson seems determined to move by the trade deadline if possible.
Anthony has a no-trade clause, but the Clippers could be a destination where he would waive that to go. It's in Los Angeles, which means he and LaLa would remain in a large city, and his buddy Chris Paul is the point guard. The harder part of moving Anthony to Los Angeles is getting coach and general manager Doc Rivers to bite on a trade proposal.
Rivers was asked by ESPN's Rachel Nichols about any discussions with the Knicks about Anthony, and more generally about whether he would be willing to move his own son, backup point guard Austin Rivers, in a trade.
"We're going to do whatever it takes," Rivers told Nichols. "Listen, I would trade anyone. You have to be willing to do that so — and [Austin] would be one of them, and any of them would be one. But I don't want to trade any of our guys. I like our team. Having said that, if you think you can make your team better, you make your team better. That's my job."
As general manager, Doc would have to consider trading Austin, so this isn't a huge surprise, but it would certainly make the next family gathering a bit awkward if Doc traded his son away. The more interesting part of the quote is that he says "I would trade anyone," because the Clippers moving Chris Paul or DeAndre Jordan would be far more surprising to me than moving Austin Rivers.
Those two aren't getting moved, but if the Knicks come calling and are dangling Melo out there, holding onto Austin Rivers couldn't be the reason Doc rejects a trade.