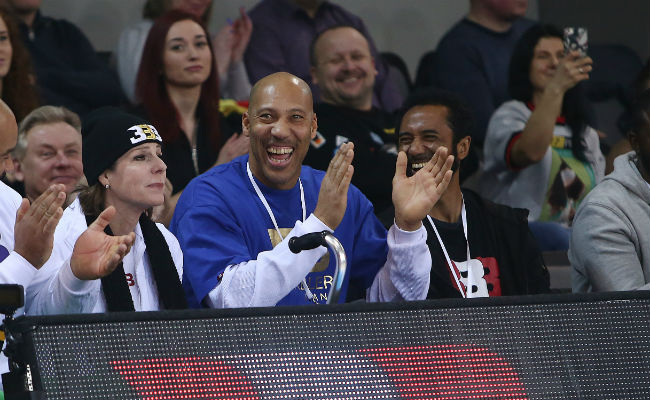 LaVar Ball is back to sparring with Donald Trump after reports that the president actually didn't do much of anything to help LiAngelo Ball escape China back in November.
Trump famously called the Big Baller Brand founder an "ungrateful fool" for not thanking him for his help in rectifying the situation when the middle Ball child was arrested last fall. On Friday, an ESPN report more clearly detailed the timeline of events in China and revealed that Trump was late to the situation altogether.
Ball, whose pinned tweet is currently an animation of himself dunking on the 45th president of the United States, tweeted on Saturday asking Trump directly "thank you for what again" while attaching screenshots of a headline and story that talked about his lack of impact on the situation.
In a way, Ball is right to gloat a little bit here. He downplayed the severity of the international incident shortly after LiAngelo was arrested for shoplifting sunglasses and other items along with two other UCLA players, Cody Riley and Jalen Hill. Ball said the matter would be sorted out in due time, and it was, apparently well before Trump got involved by calling Chinese president Xi Jinping to ask for help.
LiAngelo said he only thanked Trump because UCLA made him, while LaVar went on TV and laid out why he would not be thanking Trump for his help, whatever that amounted to, if anything at all.
On the other hand, it's not hard to get Trump riled up on Twitter about much of anything these days, and it's not like the most powerful man on Earth will suddenly become a gregarious and graceful sparing partner. We'll have to see if Trump responds. If we're lucky, it will be with a Rose Garden statement while he wears the ZO2s Ball sent to the White House a few months ago.