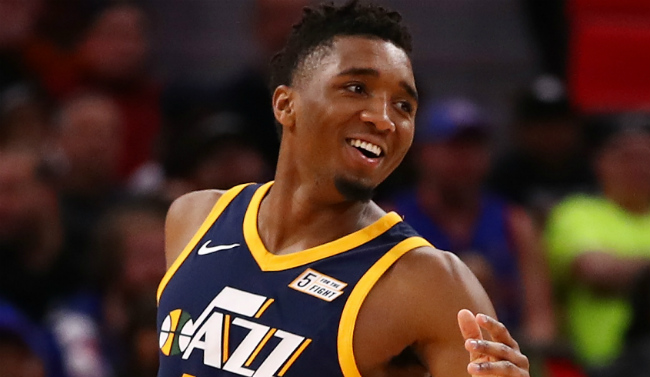 The 2017-18 NBA Rookie of the Year race has managed to take over the awards conversation in recent days. This is because, among other things, there has been a whole lot of chatter about whether Sixers guard Ben Simmons should actually be considered a rookie. Those who think he is a rookie, unsurprisingly, don't have a problem with giving him an award.
But there are a whole lot of people who believe that Simmons' year on the sidelines learning the game and getting used to life in the NBA makes him not a rookie. Those people also generally believe that Utah star Donovan Mitchell deserves the award. There have even been NBA players, most notably Draymond Green, who give Mitchell a leg up for this reason.
Mitchell and the Sixers have been getting a little spicy regarding the Rookie of the Year race, and on Tuesday evening, Mitchell took his latest shot at Simmons with his outfit before the Jazz played Golden State.

Mitchell's hoodie even got some love from some members of the NBA family.
Of course, the irony of this is that the definition Mitchell has on his hoodie can also apply to Simmons, because he did not play last year. The intention of what Mitchell is saying is clear, though: He is a rookie, while Simmons getting to take a redshirt year disqualifies him from getting the award. Voters will ultimately decide if this is the case, but until then, everyone (including Mitchell) will debate whether Simmons is actually a rookie.