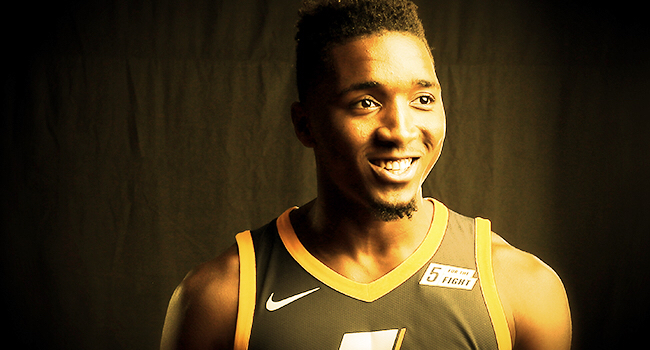 A combination of talent, work ethic and maturity is needed in order to make an instant impact as a rookie in the NBA. With players exposed to so much more external distractions like social media, viral videos and public knowledge of their lives, teams have a tough task of finding the perfect mix of talent and maturity at the ages of 18 and 19. Of course, it makes a lot of sense to bring in potential talent as early as you can, to help mold and create the player you need. But, from the player's side one can only imagine the stresses and challenges you face with being that target throughout your life. Some can thrive in those potentially hostile atmospheres, but having the talent and ability translate with those specific personalities has an even smaller percentage of coming true.
One of these incredibly gifted human-beings (not just players), is 13th overall pick by the Utah Jazz in the 2017 NBA Draft, Donovan Mitchell. Mitchell, a guard out of the University of Louisville, has an incredible aura about him. His personality is honest and open, his game is silky smooth on the offensive side of the floor, while his defense is quite the opposite – tenacious and feisty. He's that utterly rare combination of work-ethic, talent and intelligence packed into a somewhat small yet unique body and build.

His arms crossed and his stance relaxed, Mitchell exudes a quiet confidence. Mechanically, his shot is as NBA ready as any prospect in the draft with a quick release with a great stance. His improvement from his freshman year to sophomore year in Louisville saw him become a reliable 35.4 percent shooter from deep, and he's headed to a Utah team coached by Quin Snyder, one of the best developmental coaches in the NBA.
This summer in Las Vegas, Mitchell announced his presence to the NBA world that may have otherwise been overlooking the late lotto pick. He managed to steal some of the Summer League spotlight away from the Lonzo Ball Show, as there was constant chatter in Vegas about how this player from Louisville ended up drafted so low. Mitchell's mind and motivation for the game creates an unsatisfied, hungry player, even as praise gets piled on. While his emotions on the court aren't easily identified, the game he loves to play means more to him than meets the eye.
"I don't want my mom to work again," Mitchell told DIME. "But competing at the highest level and being the best is why I'm motivated. Whether it's having the highest vertical jump or having the most assists, I just want to win it all. I just know that this [game] can be taken away so quickly that you have to use every moment you have to your advantage. I think my injury during my sophomore year really made me realize that, put me over the edge and really changed who I am."
Mitchell was once a two-sport star in high school and a promising baseball talent, like his father, before he suffered a broken wrist during a baseball game his sophomore year that took him off of the baseball field and the basketball court for a summer. He then transferred to Brewster Academy in New Hampshire for his final two years of high school, where his basketball talents matured and made his path clearer, eventually ending up at Louisville with Rick Pitino. Mitchell remembers the way being sidelined helped refocus him on his goals and drove him to work harder to play catch up to his peers that spent the summer building their talents and profiles.
"When you sit out and you see all those guys that you think you're better than and they get all the accolades, it's kind-of like 'alright, I see you, now I'm going to make all this ground up.'" Mitchell told DIME. "I've been doing that ever since and I just want to continue to build on that to be the best that I can be."
With an offseason less than desirable to Jazz Fans due to losing their star player Gordon Hayward and underrated point guard George Hill, it looked like the Jazz may be headed into small-market turmoil. However, the addition of Ricky Rubio along with Donovan Mitchell to a core built around star center Rudy Gobert figure to keep the Jazz trending in the right direction as they move on from their long-time star.
In Summer League action, Mitchell turned heads and dropped jaws as his high-scoring, energetic play was easily identified. Mitchell averaged 28 points and 6 steals in 33 minutes per game in Vegas. While it wasn't the most efficient offensive performances for the rookie (shooting about 34 percent), he was tasked with running and carrying the Utah Jazz squad .

"I'm just looking to get better and improve in every way I can," Mitchell added regarding his Summer League display. "But, it's been fun. Being a leader on the court, being a coach on the court. It's something people told me I couldn't do and another thing that I want to prove people wrong with."
Possessing one of the most undervalued centers Rudy Gobert, multiple playmakers like Rubio, Rodney Hood, and veteran Joe Johnson, and a coach that's proven he can scheme with the best in the league, Utah still has a formidable team – even if it has to deal with the bloodbath that is the Western Conference.
With Mitchell's dynamic, two-way play, the Jazz could be the team that many are overlooking. He isn't the flashiest rookie on or off the court, but the constant movement with and without the ball in his hands is both exhausting and exhilarating.
"He's a really special kid," Chris Brickley, one of Mitchell's trainers said. "He's going to be really, really good. He's a sharp kid."
Mitchell may be ready for the transition from the college game to the NBA game on the floor, but the adjustment to the lavish lifestyle that many NBA stars enjoy isn't a jump he's quite comfortable making.
"I bought my first Gucci belt [after I was drafted]," Mitchell said. "I hated every minute of it because I don't like spending money like that. So spending 300 something dollars on a belt was something I really don't understand but I bought it and I'm ok with it. Other than that, I bought my mom and my sister a lot of shoes."
Mitchell hopes to prove that quiet substance can trump flash and that figures to fit in well with this Jazz squad. This summer in Utah was defined by the departure of Hayward to Boston, leaving a promising playoff team on the rise with significant questions about their immediate future in the ultra-competitive Western Conference. However, Mitchell hopes over the next few years he can rewrite the story of the summer of 2017 for the Jazz by making it about how they landed the steal of the draft at No. 13.