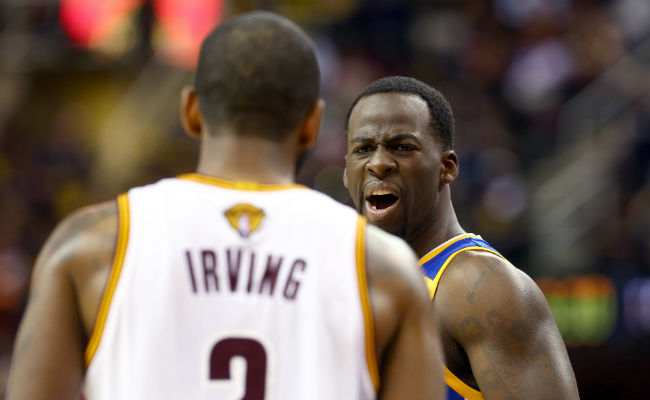 Draymond Green wasn't shy about saying he wanted to celebrate an NBA title in Cleveland. For Kyrie Irving and the Cavaliers, all that champagne talk was just what they needed to get going.
Multiple Cavaliers players addressed Green's pre-Game 4 hopes for a win on the road after the Cavaliers' stunning Game 4 win on Friday night. Though some didn't hear Green's comments for themselves, the vibe in the locker room was clearly one that was motivated by Green's goal of celebrating in Cleveland and silencing Cavs fans at Quicken Loans Arena.
"I didn't hear it," LeBron James said after the game. "But some of the other guys heard it and told me that that they wanted to celebrate on our floor once again, and they wanted to spray champagne in our locker rooms. And I think it came from Draymond, which is OK. That's Dray anyway."
Green and James are fine off the court—the two appeared in the Uninterrupted special The Shop that was released hours before Game 4. But clearly Green's talking got Cleveland motivated. Most notably, Kyrie Irving was ready to defend the land, so to speak.
"You add, of course, some chatter in there, and that adds some extra motivation," Irving said.. "And you give us a day in between, and we were ready to come out. Especially me, because that taste wouldn't have been the same if we would have lost tonight and they would have celebrated on our home floor. So I'll just leave that at that."
Irving led all scorers with 40 points in an inspired effort. It was enough to hand Golden State its first loss of the postseason and put the Warriors up 3-1 in the series, a position everyone in the NBA Finals is very familiar with.