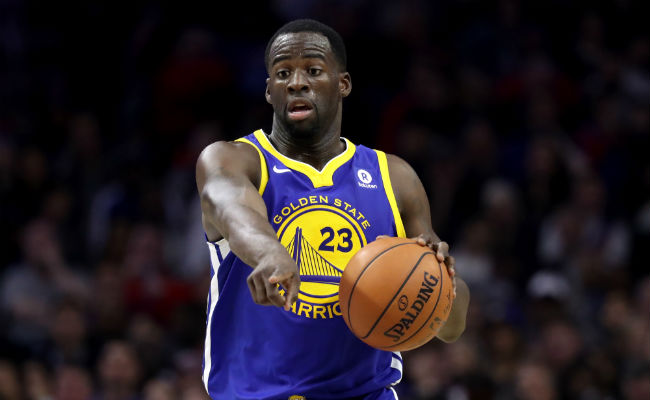 The Golden State Warriors were able to complete their opening-round victory over the San Antonio Spurs on Tuesday night. Golden State picked up a 99-91 win in front of a raucous Oracle Arena crowd, giving the defending champions a 4-1 series win and punching their ticket for a conference semifinals matchup with the New Orleans Pelicans.
Draymond Green was masterful in the Warriors' Game 5 victory, going for 17 points, 19 rebounds, and seven assists in 40 minutes. It was the kind of game that he is so good at producing, as he filled in gaps wherever they popped up, in addition to playing stellar defense against his opponent.
A strange moment came when TNT's Chris Webber claimed that Green, who is a two-time All-Star and is extremely good at basketball, wouldn't start for some NBA teams.

He is right that Green isn't a scorer, but to say he wouldn't start on other teams for that reason is a bit … odd. Green agreed, and when asked about Webber's comment after the game, explained why he felt that TNT analyst was off-base.
"I don't have a scorer's mentality, especially for the team that I play on," Green said. "I think if I did have a scorer's mentality it would throw all this off and it wouldn't work out. I think there are times in the game where I probably need to score more, but it's hard to turn a scorer's mentality on and off. I've had that once before in my life, you just don't click that on and off.

"I've done some great things in this league," Green continued. "I've been an All-Star twice averaging like 11 points, 10 points, or something like that. I don't need to score. However, I don't think he can find many GMs or coaches that would say I wouldn't start on their team. I'm fine without scoring the ball, I think I've created a new lane for guys in this league to where you don't have to score 20 points to be an All-Star."
The issue with seeing how Green would fit on other teams is that he's so unique that he wouldn't fit in the way a conventional "star" would, largely because making him average 20-plus points per game just isn't what he does. One thing is for sure, though: There are 29 other NBA teams that would love to have a player of Green's caliber in their starting lineups.