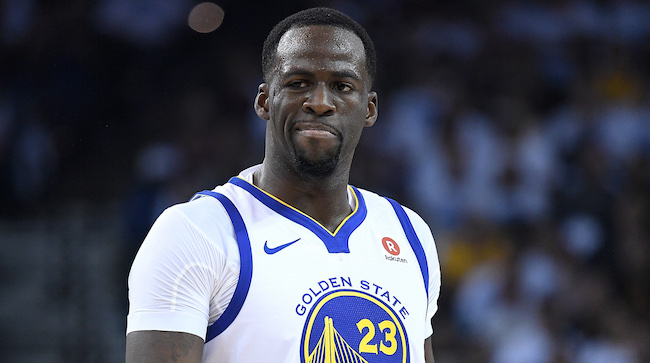 Draymond Green is a big believer in paying off your debts in a timely manner.
We recently saw the Warriors' center call out Nick Young on Instagram asking for payment of a $2,000 Super Bowl bet after Swaggy P took the Patriots. While Young tried to play dumb briefly, he eventually gave in while grumbling about the "stupid ass Patriots," admitting that he had indeed lost the bet. The video cuts off, but one can assume Young paid up.
On Wednesday, the tables were turned on Green as he found himself being reminded of a bet owed on camera by Portland forward Evan Turner. Green was gently reminded by Turner during his media availability in the hallway in Portland that he owed him $100 for a standing Michigan State-Ohio State basketball bet and that the sizable blowout may have warranted and even higher payout. Green happily obliged after double checking that Turner didn't still owe him from football season, and paid him on the spot.

It's a pretty funny, light-hearted moment and you can see the mutual respect between the two as they dap and offer pleasantries about being Big Ten boys. All in all, it was a pretty good night for Turner as he got paid out on a bet by Green and the Blazers got a big win over the Warriors heading into the All-Star break. The biggest winners on Wednesday night, however, were all of us watching that game because the basketball was great and Bill Walton was even greater on the call.