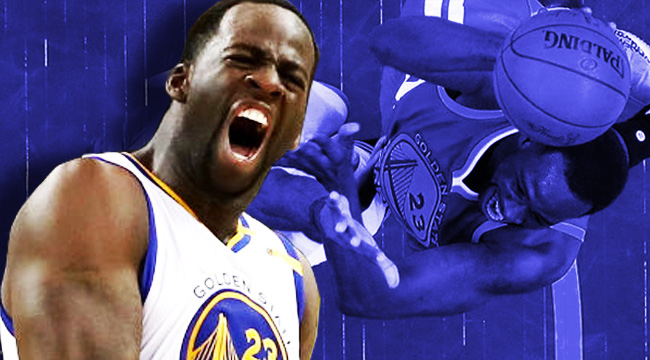 In a world where everything is online and players are judged by some combination of their box scores, advanced statistics, and occasional play on the court, the role of emotional catalyst goes under the radar as often as LeBron James makes the NBA Finals. All the analytics are great, but many would still argue that teams need personalities to mesh well, seamlessly fit, and get along to really meet their full potential.
Standing at 6'7, the virtually position-less man formerly of Michigan State, Draymond Green, has arguably been the Warriors most critical cog in their incredible wheel. He doesn't have a signature move, but more like a number of moves which has you second-guessing yourself as an opponent. His work-ethic, coupled with an emotional, fiery temperament give him qualities that few players carry on the court. It's what makes him great most the time and a wildcard at other times capable of exploding at a moment's notice.
Either way, he's impossible to ignore.
Singularly, he may not be a top-25 player based on his statistics, lack of true scoring ability, and offensive prowess. But, with the Warriors, he may be the most important part of their team. His knack for seeing plays before they happen, lateral quickness and movement on defense, and ability to guard virtually any position allow the Warriors to play more freely which creates a microcosm of other positive direct and indirect effects.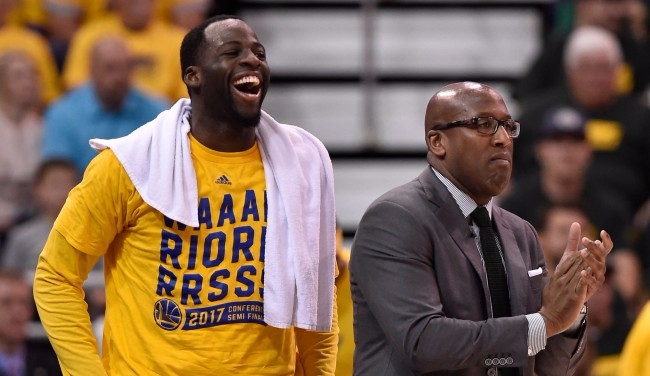 "The crowd of people who can watch the Warriors and see his value is a relatively small percentage of the NBA fan base," Marcus Thompson, Bay Area News Group writer and author of the book Golden, says. "[It] depends on who you replace him with. But he is the Steph Curry of the league's best defense. If you just take away Draymond Green from this team, they'd probably be a better version of the Rockets but certainly not a championship favorite. I don't think they would've won the 2015 title, made three straight NBA Finals, or even won 207 regular season games in three years."
Most valuable or not, Green skills aren't necessarily the only thing that makes him great. His attitude both on-and-off-the-court, have made him hated by many, but it's the driving force behind his actions, play, and work-ethic.
"It doesn't matter what it is, he always wants to beat you," Jacquail Jacox, Green's manager says. "It can be a game of cards or it could be on the court. It doesn't matter what it is, he's a competitor at everything he does."
In fact, while his trash talk is next-level and irks many fan bases to relentless boos and chants, he's also the first to own up to not playing well.
"Draymond is very calculated," Travis Walton, Green's former teammate and current trainer says. "People think he's just speaking his mind, but a lot of the time, he knows what he's doing. Obviously, in the heat of the moment, anyone can act out. But for Draymond, he's much smarter than many give him credit for."
During Game four in last season's Western Conference Finals, Draymond shot 1 for 7 and the Warriors looked to be flailing without direction. After the game, Draymond would come out and say that it was because of him that the Warriors weren't playing up to par.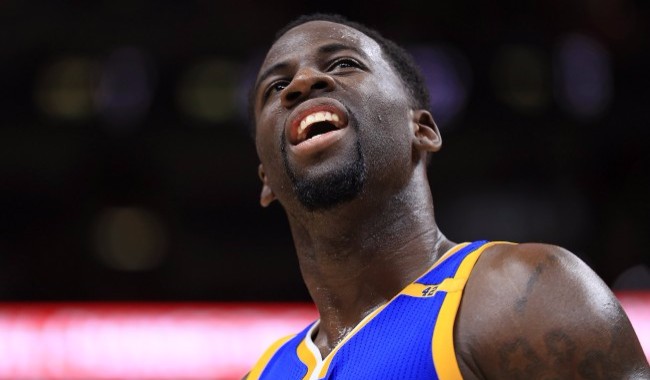 But Green, the second-round tweener, is the linchpin to everything the Warriors do. And the only way to seemingly stop the machine that is the Warriors is to stop Green.
"I guess the only way you could stop him is by having the refs call those techs and kicking him out of the game." Ricky Davis said on Green's ability.
Players who play against Green feel similarly. His competitive nature, attitude, and ruthless approach remind some of Kevin Garnett, coupled with an ability to shoot and create like a guard.
"I think his intangibles are crazy," Trail Blazers guard Evan Turner, who faced Green in the first round of the playoffs. said. "He's a tough dude physically, but he's also tough in challenges. When they talk about 'let this player beat you or let this player shoot,' he beats you every time. He just has a lot of little challenges that he wins whether it's guarding the perimeter or stepping up and shooting a three. He fits in very well with that already All-Star team."
You could argue that Green's ability to spread the floor and defend almost anywhere has allowed the Warriors to play the way they play. But move one step further and there's an argument to be made it's literally Green who decided the fate of the NBA's future (especially if you believe that his call after Game 7 brought Kevin Durant to Golden State).

Back in the late 1990s and early 2000s, it was big men and creative guards, but the change in direction and play has come through the Warriors. Sure, the Phoenix Suns, Mike D'Antoni, and company had a similar idea, but how many in the league tried to emulate that same style? That's where the difference is distinguished. 10 years ago, GM's and coaches may have looked around the league and said "I want the next Shaq." Now, it's "how do I find the next Draymond Green?"
Stats like that one could be partially attributed to the Warriors dynamic shooting, but ignoring Green's impact here would be foolish.
"He's passionate, he's dominant," Jacox says. "His work-ethic is through the roof. Every day he's improving, every day he's trying to improve everyone not just himself. He's always pushing me to get better and do better."
Green has been known to yell at teammates on the floor but many have misinterpreted his emotion. He's honest and open with his teammates, and the level of trust – both ways – is part of why the Warriors continue to win.
They know Green will be Green (for better or worse), but if something's wrong, he'll speak up or take accountability privately.
"With Draymond, he's doing it organically," Walton said on his Green's emotions. "If you don't have players who are holding each other accountable, you're probably on a losing team. Coach Izzo always said 'a player coached team is always better than a coach-coached team.'"
With Green, many now ask about how he'd fit if he were on another team. And because his game isn't predicated on hitting shots, it's very tough to say. While he can rebound, out-work anyone, and play some of the best defense in the game, he's still only a few years removed from being a substitute for David Lee.


"(He's) very valuable to Golden State," Chris Broussard of FS1 says. "On another team, he wouldn't be nearly as good."
But, with the confidence, belief in himself, and his continual additions to his game, fit, at least in his inner-circle seems to be clear. Walton feels he'd fit anywhere with how confident he is and how much he adds to a team, even if those contributions aren't always counting stats.
Clearly, Green's playing with one of the best teams we've ever seen, but it's hard not to believe Green would find a way to thrive in other situations.
"I think the combination of his ability to guard multiple positions and his passing ability at the forward position make him extremely unique and valuable," ESPN's Jeff Van Gundy said. "He plays with great, great scorers, all-time shooters and scorers, and I think that does help him. I think he has the right home in Golden State, for him. If he was placed in another environment where he was paid big money and having to find a way to get 18 to 20 a game, that would be a challenge. He has a unique skill, but it's well placed on a Warrior team that has a deep, deep scoring ability."
Green's motivation and drive is one that many know, but don't have an answer to where it comes from. Game in and game out, you can clearly tell he treads a thin line between getting technicals and providing that necessary spark to reinvigorate a the unmatched talent of Golden State.
Typically, he's very good at knowing the line, but even getting to it is something many players can't or aren't willing to do.


"I think his motivation comes from the environment he grew up in and the people he was surrounded by, like his mom and his family," Walton said. "As long as I've been around him, the dude is a winner. I mean, I've had success with the guy at Michigan State. So when you call a guy a winner, he's a guy who wins championships. All across the board from high-school to now, he's a winner."
Green's growth and development is uncanny for a player of his nature, but his relative skill shouldn't have been overlooked. He was the National Player of the Year, Big 10 Player of the Year, and beyond his size constraints, he had a lot to offer. Yet, he was still picked 35th in the 2012 NBA Draft. Luckily for Warriors fans, he's arguably become the steal of any draft in history based on his performance, production, and value, and is now getting some recognition for their recent success.
However, Green is still critiqued and criticized because of some of the statements he makes and the flamboyant nature of his outbursts during the game, like in Game four when he invited the boos raining down on him after he seemed to receive his second technical foul and called Cavs fans "not sharp" following the game.
Even so, Green hasn't ever gotten the respect of the general NBA fan, love him or hate him.
While many could probably relate and generally agree with his attitude, mentality, work-ethic, and blue-collar form over other NBA stars, for whatever reason, the general fan cannot come to grips with anointing a player who may not be the at the top of your stereotypical box-score. Maybe it's the flagrant fouls, maybe it's the kicks to the nether regions, or the complaining, or the barking, or the flailing. Maybe it's his never say die attitude.
Or maybe it's because no one really knows how to quantify one of the most unique players in the game. And Draymond Green would probably prefer it that way. He's too loud to sneak up on anyone anymore, but he'll take your disrespect with a side of underappreciation any day.