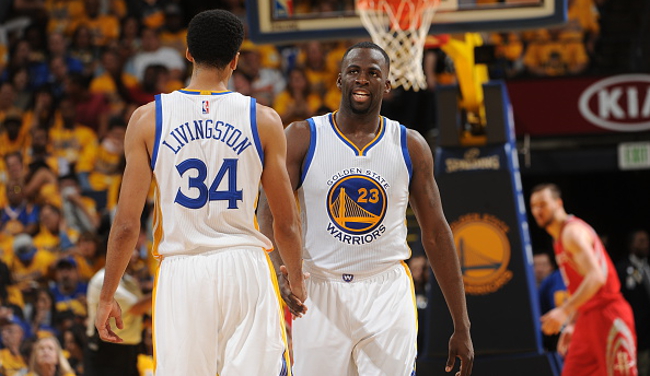 The Golden State Warriors understand better than anybody the unimpeachable value of the three-point shot, which is perhaps the centerpiece of the analytics movement in recent years. But the focus on the numbers doesn't stop there. It trickles down to everything from how the roster is constructed, to lineup configurations, to minutes played, ad infinitum.
But the players (you know, the people who actually play the game), however, tend to talk about more esoteric (if not cliché) things like rhythm, feel, chemistry, etc. Even players who are the living embodiment of the metrics-driven revolution seem mostly disinterested in that level of stats-crunching. Take Draymond Green, for instance, a walking utility belt who is widely considered one of the best all-around players in the NBA precisely because of all the new measurements we use to quantify a player's overall impact on the court.
The way he approaches the game, you'd think he'd be hyper aware of the statistical value he brings to the floor and how it's given him an opportunity to carve out a niche for himself in the new NBA. But you'd be wrong. In a recent interview, Green had this to say about whether he's interested in the topic of analytics on a personal or professional level. Via Michael Wilbon of The Undefeated:
"Professionally, I play completely off of feel. I hear people discussing my game in terms of all these advanced numbers. I have no part of it," Green said. "Even paying attention to it, from a playing standpoint, would make me robotic and undermine my game. I'm supposed to step back behind the line in real time to avoid taking a 'bad two'? That's thinking way too much. I don't get the fascination at all."
Speaking of the dreaded two-point shot, it makes sense that teammate and midrange-enthusiast Shaun Livingston would likewise harbor an aversion to analytics, given his categorical avoidance of the three-point line. He also doesn't put much stock into employing a numbers-driven approach to roster construction (regardless of how well that's worked for this current iteration of the Warriors and particularly Livingston's part in that equation). He does, however, see the value in using available data as a weapon against his opponents.
"I use it as a scouting tool," he said after a recent Warriors playoff game. "I want to know, defensively, someone's 3-point shooting tendencies or whether a guy is a bad free throw shooter so that I know when exactly I want to foul him. I use them as an advanced scouting report. When I played for Mike Dunleavy, he was great with the scouting report … So was Erik Spoelstra … and those things were an important part.
So it appears for the time being that analytics will remain under the purview of coaching staffs and front office execs, while many who actually play the sport maintain a certain amount of skepticism. Regardless, the use of stats in professional sports isn't going anywhere any time soon.