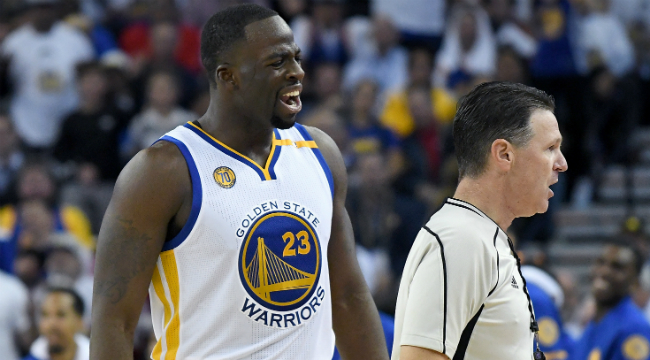 The Golden State Warriors, for all the talk of them being an unbeatable super team this year, were thoroughly chastened by the San Antonio Spurs at home, 129-100. The Warriors looked out of sync on both offense and defense, which is not that surprising when you consider how much roster turnover they experienced this offseason, even beyond Kevin Durant.
But not everyone is so willing to give the Dubs a pass for laying an egg in their first game — Draymond Green's mom is already unhappy about her son's usage.
Mary Babers-Green isn't cutting Golden State much slack, since Dray had a pretty great stat line, playing 33 minutes for 18 points, 12 rebounds, 6 assists and 5 steals. Where he struggled was on defense, where he let LaMarcus Aldridge have a huge game with 26 points and 14 rebounds, eight of them offensive. As for taking Green out of the plays, it's incredibly hard to diagnose from the stands or from the couch what player has what job on any given play, considering that so many offensive sets in the NBA are designed to have multiple options.
The trust and chemistry that Durant envisioned when he came to Golden State takes time to build, as everyone on the team knows. We're not going to tell Mary to chill about her son, because overreacting is sort of her deal, but she should at least take a breath.