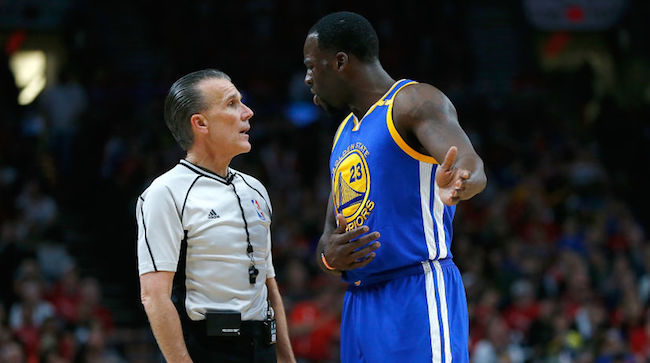 Draymond Green and NBA referees have a contentious relationship. The Warriors' All-Star has long found himself near the top of the league's technical foul list, with this season being no different as he has 11 to lead all NBA players.
Green's propensity for outbursts about bad calls makes him a fairly regular recipient of them, but as his reputation has grown as a complainer he's felt he's found himself getting a quicker whistle. The most recent technicals levied against Green came in a Warriors win over the Grizzlies that Green saw little of as he was ejected early in the second quarter after picking up a pair of quick technicals.
Green was not pleased by those calls and didn't hold back after the game in calling out the officiating in the NBA. He feels there are too many officials with personal problems with certain players and that is the root of the current problem the league has with tensions between refs and players. Green went so far as to suggest the league find a "whole new crop" of referees and get rid of the current ones, which unsurprisingly didn't sit well with the NBA. On Monday, Green was slapped with a $25,000 fine.

The fine was to be expected and Green can't be surprised to find this memo in his inbox, because this has long been how the league has handled comments against officials. While this won't make Green happy, he may feel he got his money's worth out of his comments if it forces a conversation to be had about whether officials do indeed let personal problems with players affect them during games.