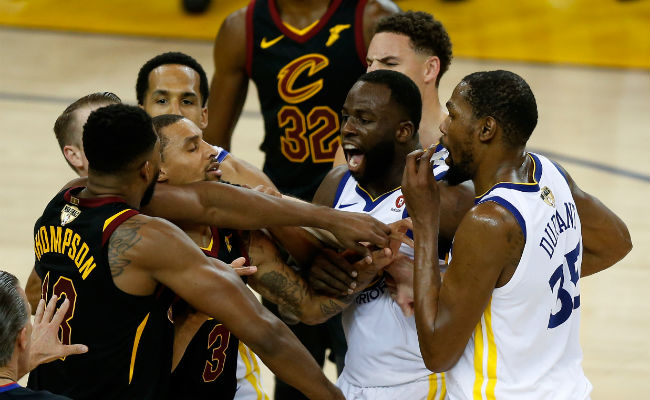 Draymond Green has a message for Tristan Thompson: He's not going to fight him near the team buses, but he's got all summer away from the basketball court to settle things.
The Golden State Warriors star told the press on Saturday that he won't fight Thompson on the court anymore, but he's available on the "streets" if he needs to work things out with the Cleveland Cavaliers big man. Thompson and Green got into it at the end of Game 1 of the NBA Finals, with Thompson getting ejected and catching a $25,000 fine.
Green is no stranger to getting fined this season, but he'd rather settle his scores without impacting his wallet. He told reporters on Saturday after practice that he's willing to meet Thompson "in the streets any day" to work things out with fisticuffs or words, if necessary
https://twitter.com/SInow/status/1003003396712890368
"I can't meet him outside here, 'cause I'll still get fined," Green said on Saturday. "But I can meet him in the streets any day. You can say something like 'meet you at the bus.' I'm taking care of my family. I ain't gonna meet you at the bus."
Green said the summer is great because "you can meet anybody anywhere" and suggested that might be the best time to clear the air of any issues that may have popped up in Game 1.
"If you want to see me somewhere else, that's fine," Green added. "Any time."
Green did clarify some other things in what was a very entertaining meeting with the press on Saturday afternoon. Namely that he was shaking pom poms, not dancing, at the end of overtime. He also said he didn't think Thompson should have been suspended for the brouhaha that went down before the final buzzer.
All this talk does set up an intriguing Game 2 on Sunday night. These teams are clearly not strangers, having seen one another at season's end the last four years now. But getting the blood boiling can sometimes be hard when you're a conference apart. It clearly won't be a problem this year, though.