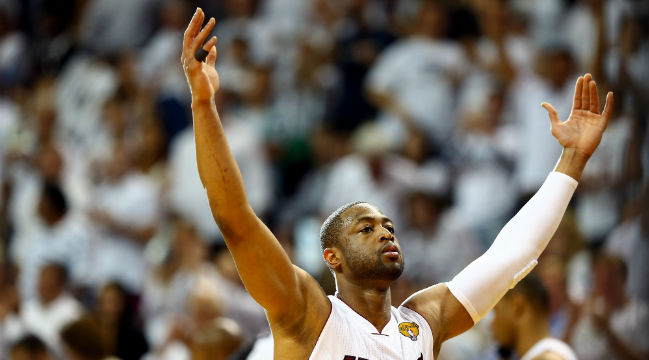 Dwyane Wade looks like he is leaving Miami. The Heat legend will play for the Chicago Bulls, the first team other than Miami that he'll play for during his professional career, according to Adrian Wojnarowski of The Vertical.
Of course, this is a homecoming for Wade, who is a native of Chicago. Wojnarowski also pointed out that this deal is still dependent on the Bulls making room for the 12-time All-Star, and it looks like Jose Calderon and Mike Dunleavy, Jr. could be on the move.
While Wade threatened to leave Miami earlier this summer, it seemed like a foregone conclusion that he'd end up in South Beach once all the dust settled. However, other teams started to aggressively pursue the former Finals MVP, and Wade eventually reportedly began to engage in contract talks with three other teams: the Knicks, Bucks, and finally the Bulls. On top of all of this, Wade's first offer from the Heat was rather low, as the team offered him a deal worth $10 million annually. While Miami eventually upped their deal to Wade to $20 million a year, it doesn't seem like that was able to get the job done.
This move won't send shockwaves across the NBA the same way that Kevin Durant's move to Golden State did, but this is still pretty big, if only because it'll be weird to watch Wade in a different jersey.
UPDATE:
It's official.