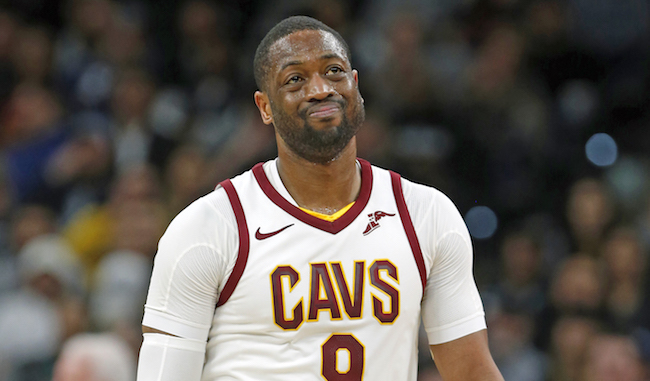 Dwyane Wade is reportedly heading back to Miami.
The former Heat superstar was traded back to Miami by the Cleveland Cavaliers as part of a wild rebuilding effort on Thursday. In what was once thought to be a slow trade deadline, the Cavs blew it all up and shipped nearly half the team out in deals with the Lakers, Kings, Jazz and now the Miami Heat.
The latest is a deal that sends Wade back to the team that drafted him with the fifth overall pick in 2003. According to ESPN's Adrian Wonjarowski, Wade leaves Cleveland right as the team also executed a massive multi-team deal that netted the Cavs Rodney Hood and George Hill.
Cleveland will have a very different team around James once the trade deadline is over, and Wade won't be around to see how it works out for his friend in Cleveland. Not a week ago, Wade said that no one would be coming to "save" the Cavaliers, but it seems like they're sure going to try to revive a season that seemed dead in the water just hours before the deadline.
The Heat later clarified that the second-round pick sent the Cavs way is a protected pick in 2024. And the deal reportedly was done because, according to ESPN's Brian Windhorst, the bevy of new players meant Wade would see a serious reduction of playing time.

Instead, Wade leaves Cleveland for the team he started with. And Gabrielle Union couldn't be happier.
All of this is with the goal, at least in Cleveland, of keeping LeBron James around after free agency. But it's difficult to know just yet if James is thrilled his friend, who he himself helped recruit to Cleveland, got shipped out the door. Still, the Cavaliers just got a lot younger, and we're going to see a very different team in Cleveland for the rest of the season.
For their sake, 'different' has to mean 'better.'
Have you checked out the new DIME podcast? Subscribe!