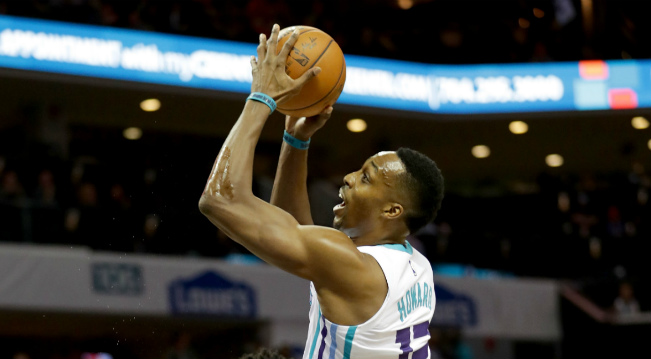 At various points in his NBA career, Dwight Howard has publicly entertained the idea of taking more shots from the perimeter. But currently, it is probably too late for the 32-year-old center to do that consistently. Over the course of a Hall of Fame-worthy career, Howard has accomplished many things that have made him a really good basketball player.
Still, the Charlotte Hornets center has never been much of a downtown marksman. Howard, for his career, was 5-for-60 in his career from beyond the three-point arc, and that included an 0-for-4 clip this season.
Howard was able to break his scoreless streak from downtown this season as the first half against the Philadelphia 76ers came to a close on Tuesday. Howard caught a pass, turned to see no defensive resistance and calmly knocked down a three to slash his team's deficit to 12.

In true Howard fashion, he held his follow-through as if this was a common occurrence and, as you can see in the video, the crowd enjoyed the moment quite a bit. Prior to halftime, Howard produced 11 points and five rebounds but, obviously, this particular shot was the most noteworthy of the bunch.
The Hornets have been rather uninspiring this season, aside from the semi-regular moment of Kemba Walker brilliance. Still, Howard has enjoyed something of a bounce-back after the way he exited Atlanta (in a trade featuring Miles Plumlee and Marco Belinelli) and the eight-time NBA All-Star had himself a moment in early March.