The NBA has evolved, changed, and grown into an incredibly fast-paced, unselfish and team-oriented game. With the recent changes, players who were once known as dominant on both ends could still survive, but others (specifically big men) have had to drastically change their roles. From post-moves and battling in the paint with other seven-footers to becoming a focal point of many NBA offenses, the now old-school mold of a center is hard to come by because teams just don't utilize them in the same light.
Since the Warriors developed their extremely efficient, effective style a few years ago, teams have been phasing out the guys who were once the most important aspect of a teams' means of winning (or losing) basketball games.
Players like Shaquille O'Neal, Hakeem Olajuwon, Karl Malone, David Robinson, Wilt Chamberlain, and Bill Russell come to mind when you talk about the best big men of all time. But, none of those listed had to endure the extreme change in structure, culture, and philosophy surrounding their role quite like what the modern day center has. In fact, Tim Duncan is probably the only player to play in both eras and do so in successful fashion.
This takes us to Dwight Howard, one of the last players to declare for the draft as a high-schooler and quite possibly one of the most polarizing players of the past century. Why? Well, he was at the epicenter of when centers ruled the NBA and when the traditional big man was phased out (2013-2014). Dominant doesn't even begin to describe Howard in his late Orlando Magic years. He was not only regarded as a franchise changing-player, but one of the brightest young stars in the NBA. Yet, in the same vein, as his career moved on, so did the words "franchise changing" and "dominant."
So, what do we make of Dwight Howard as a Hall of Famer? Once, he was known as a surefire bet to get in (especially given the amount of players inducted into the Hall of Fame) but as of late, many are writing him off because of his lack of consistency throughout his career. We decided to answer this question with the help of many NBA players, analysts, media members, and influencers.


Chris Broussard, FS1 Analyst and Host (@Chris_Broussard)
When I consider the fact that Alonzo Mourning, Tracy McGrady, and even Chris Mullin are in the Hall, it's hard to leave Dwight out. His eight years straight as an All Star trumps each of those guys and unlike them, he led a team to the Finals (over LeBron James, no less). Howard just doesn't feel like a Hall of Famer to me. Maybe because of how abruptly he descended from Top 5 player to struggling All-Star, to unwanted journeyman. Maybe because he was the league's best center in an era of historically poor centers. Maybe because his decline began at the youthful age of 28, when other stars are typically reaching the top of their game. Or maybe, because his public image was so badly damaged in the years after he left Orlando. Whatever the case, Dwight doesn't strike me as a Hall of Famer. But, looking at his numbers objectively, he probably is.
Cassidy Hubbarth, ESPN Host And Analyst (@CassidyHubbarth)
He's an eight-time All Star and three-time Defensive Player Of The Year, while his game may not be appreciated as much today, he was once an unstoppable force. His defensive efforts alone put him in the hall of fame in my opinion, on top of the fact that he has been ranked consistently as one of the best in the league in field goal percentage. Untapped potential may have some people convinced otherwise, but I can't deny his heyday being not only good enough but great.
Evan Turner, Portland Trail Blazers Guard (@thekidet)
People love to pick on Dwight Howard. The guy is still productive, last year he averaged 13 and 13 and never touched the ball. His last year in Houston he averaged like 17 and 13 in the playoffs WHILE HE WAS HURT. I don't really know if he'll be in the Hall of Fame because the NBA is a popularity contest, but if you go by the stats and everything then I don't see why he's not in.
Brandon Armstrong, NBA Impersonator (@BdotAdot5)
He deserves to be in the Hall of Fame. His early career statistics are damn near second to none. Compared to centers from then and even now, his numbers are near top-10. The NBA has just changed and not in his favor.


Ramona Shelburne, ESPN Senior Writer (@ramonashelburne)
I think we all assumed that Dwight Howard would be a Hall of Famer when he played on the Lakers with Kobe, Steve Nash, and Pau Gasol. We'd write, "four future Hall of Famers" without even questioning that because Dwight was certainly on his way back then. I still think his career statistics will get in there, but I'm not as sure as I used to be because of how the second half of his career has played out. It'll help a lot if he has a good couple of years in Charlotte before retirement.
Brent Barry, Former NBA Player And NBATV Analyst (@barryathree)
Yes, as of now he is in and he will have the dubious honor that is carried by so many: the questions that fans cling to about the potential of players, unrealized questions that players in most cases have to reconcile with years after they have shot their last shot and come to terms with. But, by the numbers, Dwight Howard is a Hall of Fame big in an era that went further away from the big man than maybe he ever did within himself, and I hope in whatever it is that lasts for D12 he can find joy in playing again.
Ben Golliver, Sports Illustrated Writer (@BenGolliver)
Dwight Howard won three Defensive Player of the Year awards, secured five rebounding titles, won an Olympic gold medal, made eight All-Star Games and, despite what his critics might say, was a leading offensive weapon on a long list of playoff teams. His personality, free-throw shooting, limited one-one-one toolbox and immaturity will always rub some people the wrong way, but he was one of the league's three best players at his peak and an All-NBA caliber for nearly a decade. Howard's ability to play defense and clean the glass was also instrumental in the proliferation of four-out lineups. While the Hall might struggle to sell tickets to his induction ceremony, he should absolutely be in.
Michael Rapaport, Author of This Book Has Balls, Actor and On-Air Personality (@MichaelRapaport)
I think despite all of the criticism and disappointment, Dwight Howard is a Hall of Famer as his statistics speak for themselves. The issue with Howard is the amount of unfulfilled talent he had and that will always loom over his career. After seemingly reaching his peak early on, he never really got any better.
Rex Chapman, Former NBA Player (@rex_rexchapman)
By the time he's done his numbers may be good enough. He locked down the paint at an all-world level for several years. But that said, he also appears to not care about winning and his level of give-a-s*** has always appeared to be very lacking. Nor does he care for being held accountable. His motor isn't anywhere near Hall of Fame level. My opinion as of today he is not a HOF'er. He has some time left but not much.


Shea Serrano, Author of Basketball and Other Things and Writer at The Ringer (@sheaserrano)
I would vote no, but that's mostly because he just seems like not that great of a person.
Jared Greenberg, NBATV Host And SiriusXM NBA Radio Host (@JaredSGreenberg)
Dwight Howard annoyed us with his drawn-out departure from Orlando, disappointed us by not buying into what Kobe was selling and confused us by wanting a role he was incapable of fulfilling in Houston and Atlanta.
Sure, Dwight has given us plenty to criticize however we can't deny what he has accomplished and how his body of work stacks up against others who have been enshrined. Like it or not, Dwight's individual accomplishments and team success (in Orlando) adds up to a spot in Springfield.
Dwight's career has been perplexing but what is clear is that for six consecutive seasons Dwight was the NBA's best Center. From '06/'07 – '11/'12, Dwight was the league's most dominant rebounder and it wasn't even close. During that stretch, Dwight collected 1,677 MORE rebounds anyone else. Three straight Defensive Player of the Year awards and five All-NBA First Team selections doesn't put Dwight on par with Shaq or Wilt but it does prove that, in the era in which he played, Dwight performed at an elite level.
In an earlier time, Dwight might not even have been a center. In the 90's, Dwight is likely a power forward, avoiding the constant comparisons to the best 5's of all-time.
By the end of the 17-18 season Dwight should be closing in as a top-15 rebounder of all-time, which means he will put Dikembe Mutombo (HOF '15) in his rear-view mirror. Alonzo Mourning (HOF '14) is barely among the top 100 rebounders and – with a higher field goal and true shooting percentage – Dwight has also scored significantly more points than Mourning and Mutombo.
We look at Dwight and wish he gave more – and sometimes said less – however focusing on what didn't happen blinds us from appreciating what actually did take place.
Rob Perez, Host Of "Buckets" On Cycle (@World_Wide_Wob)
For every statistic proving why he should make the hall-of-fame (he's got more than enough), he does something seemingly every game that ends up on a blooper reel. His box score has never been questioned, but the player in the jersey has. The statistics say yes, the eye test says no.
Justin Termine, SiriusXM NBA Radio Host (@TermineRadio)
Dwight Howard isn't a Hall of Famer by my definition, but by the definition of what the Hall of Fame has now become, he certainly is. If Mitch Richmond, Yao Ming, and Dikembe Mutombo are in, Dwight needs to be as well. Despite never improving in the post and being the common denominator in locker-room disasters in both Los Angeles and Houston, what he did in Orlando gets him the nod. Hard to keep someone out who was the most dominating player at his position during his era while winning 3 Defensive Player of the Year Awards, and more importantly taking the 2009 Magic to the NBA Finals while serving as their best player. Dwight never lived up to the expectations, and may not be popular with fans, teammates, or opponents, but even so he'll be in Springfield shortly after retiring.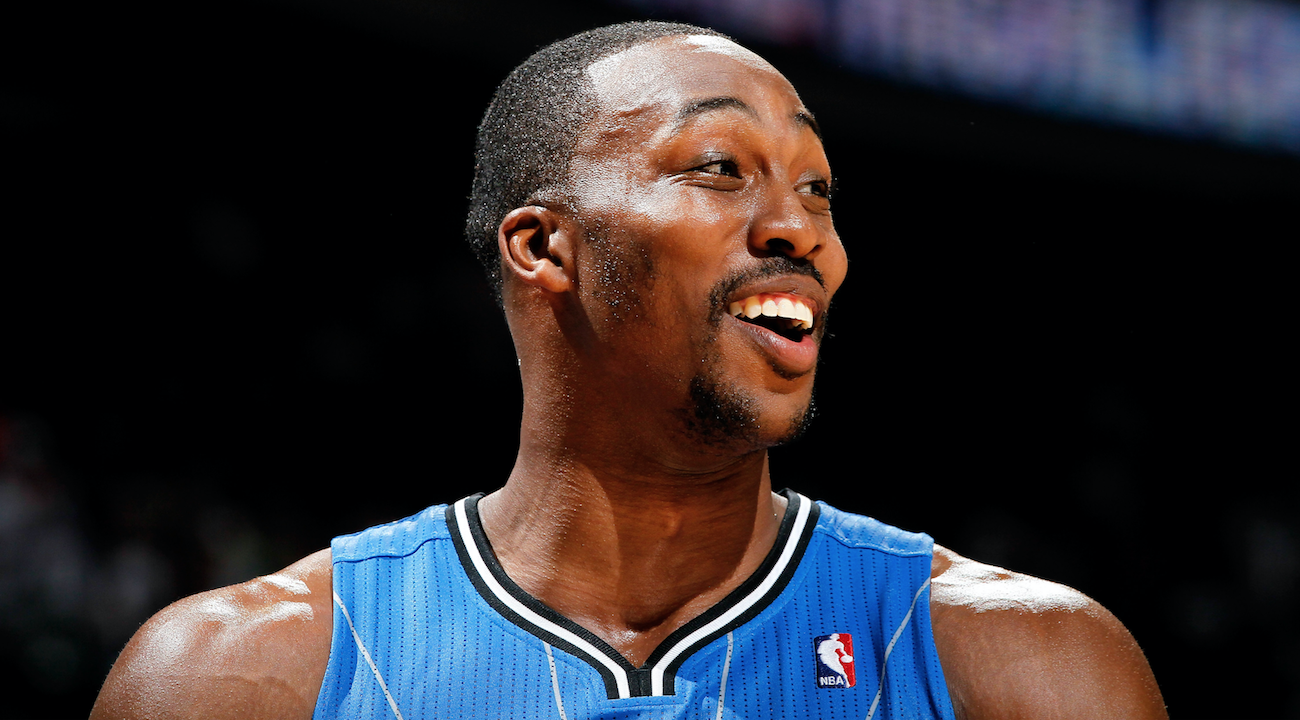 Clinton Yates, Writer at ESPN's The Undefeated and Host On ESPN Radio (@clintonyates)
The main reason for me that Dwight Howard is not a Hall Of Famer is because Dwight Howard's career has been a grand disappointment. If you're going to let guys into Halls of Fame based on a so-called it factor that made them a clearly important contributor to the game, you have to, by the same logic, take away, for people who did so little with so much.
Tough matchup? Sure. Hell of a rebounder and shot blocker? Absolutely. Howard has a hall of fame personality, not a Hall of Fame basketball career.
DJ Skee, Founder of Dash Radio, Artist and Television personality (@DJSkee)
In a shortened span (five unbelievable seasons come to mind) love him or hate him, Dwight earned his Hall of Fame spot. Of course, if you look at the last half of his career, it would be laughable to think he was Hall of Fame quality. But, he was so dominant in his early career with accolades and statistics to back it up which makes it a relative no-brainer. He was at least in the conversation for being a top 2 player in the league, one of the greatest defenders (three-time Defensive Player Of The Year) and rebounders (six rebounding titles in a row) the game has ever seen and dominated the regular and postseason. It's easy to forget and we remember the recent past and get caught up in the circus and off-court antics, but the Orlando Dwight was truly special and thus belongs in the Hall of Fame.
Alex Kennedy, Writer at Hoops Hype (@AlexKennedyNBA)
Dwight Howard made waves earlier this summer when he went on the record to say that he'll "no doubt" be a Hall of Famer when his NBA career is said and done. Howard rubs a lot of people the wrong way and he has a reputation for being a selfish player who can poison a locker room. The fact that his stints with the Orlando Magic, Los Angeles Lakers and Houston Rockets were full of drama and ended with ugly divorces has changed the way Howard is perceived by fans.
However, Howard is likely right in this instance. If you take away your personal feelings and just consider the stats and accolades, you'll realize that Howard is likely Springfield-bound when all is said and done.
Howard is a three-time Defensive Player of the Year, eight-time All-Star, eight-time All-NBA selection (including five First Team nods) and five-time All-Defensive Team selection. He led the NBA in rebounding on five occasions and led the league in blocks twice. He has an Olympic gold medal. Over the course of his 13-year career, Howard has totaled 16,652 points, 12,089 rebounds, and 1,916 blocks. It's easy to forget just how dominant Howard was during his prime. Whether you love him or hate him, you should probably get used to reading and hearing "Hall of Fame center Dwight Howard."