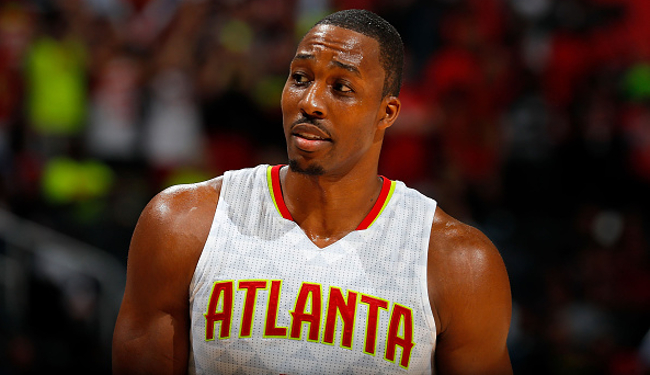 If Dwight Howard is looking for a fresh start in Charlotte, he might taint it before a game is even played. The mercurial 31-year old is on the fourth team in five years and is unable to let the past go. In an interview with ESPN's Adrian Wojnarowski, Howard discusses his past stops in Los Angeles, Atlanta and Houston and why he believes they failed. In the same interview, Howard goes into why he believes that it'll be different with Charlotte.
The 12-year veteran is coming off his second-lowest scoring season in his career, averaging a paltry 13.5 points per game while playing the most games in a season since the 2012-2013 campaign. Howard offered insight into why his numbers dipped as a member of the Atlanta Hawks.
Via ESPN:
"In Orlando, I was getting 13-15 shots a game," Howard told ESPN. "Last season, in Atlanta, it was six shot attempts. It looks like I'm not involved in the game. And if I miss a shot, it sticks out because I am not getting very many of them. But I think it's all opportunity, the system. I haven't had a system where I can be who I am since I was in Orlando. Teams wanted me to do different things than they promised me when I went to choose them. In Atlanta, I was going to be involved in the offense. Then, toward the end of the season, it turned into, 'Hey, we just got you for defense and rebounds."
Howard also revealed why his offensive production, besides his back surgery and lack of touches, has consistently gone down year by year since being traded from Orlando in 2012. His reasoning, the ball-dominant guards like James Harden and Kobe Bryant, made it hard for him to find his rhythm on offense and ended up stifling him.
Via ESPN:
""I haven't had a system where I can be who I am since I was in Orlando," Howard said. "The fact that I played with Kobe [Bryant], James [Harden], and they were ball-dominant, affected me. But I've been in this system before, and I know how dominant I can be. I think I'm smarter now, and that is going to allow me to use my quickness and explosiveness in a better way."
Whether or not Howard is right, and that Coach Steve Clifford and the Hornets lead by first time All Star Kemba Walker, can best utilize Howard's abilities is yet to be determined. But if it fails this time, Howard might need to find someone else to blame, and this time it may start with the man in the mirror.
(ESPN)