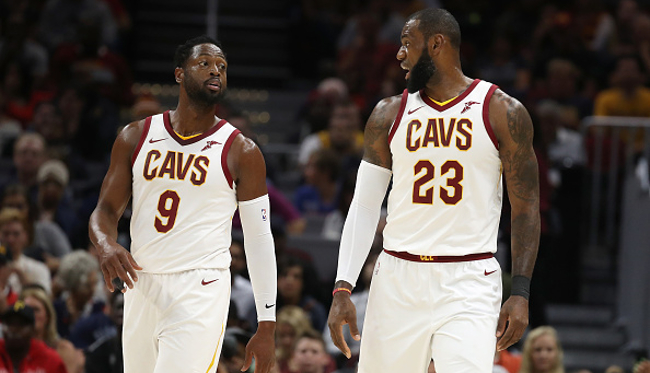 The Cavaliers are 2-1 to start the season, but after getting trounced by the Magic at home there were some questions to be answered about Cleveland, particularly with regards to its rotations.
Dwyane Wade was handed the starting two-guard spot when he arrived in Cleveland after being bought out by the Bulls, leaving J.R. Smith as part of the bench unit for the first time since he joined the Cavs. The decision was a curious one, as Wade didn't seem to really fit the need of the starting lineup for the Cavs.
Smith himself questioned the move, noting he couldn't figure out who was going to shoot threes in a lineup with Wade and Derrick Rose (now Jose Calderon) in the backcourt. Wade's relationship with LeBron James made for a tricky spot for Tyronn Lue, who may very well have seen the problems coming for Cleveland's starting unit with regards to spacing and backcourt defense with Wade in it. This season is all about trying to get James to stay in town, so keeping James happy by letting him play with Wade as part of the starting unit was clearly part of the decision making process here.

However, on Monday, Lue announced a change was being made and Wade was heading to the bench, after the veteran star approached Lue about his role and the two decided it was best for the team for him to move out of the starting lineup.
For the heat he took from some for taking the starting job that he may not have earned or deserved, it's pretty big of Wade to recognize that it just wasn't a good fit with the starting unit. With the point guard position now as thin as it is, Wade's ball-handling skills in the second unit are extremely valuable, and moving Smith back into his starting role gives that unit more dynamic offensive opportunities.
Any concerns that the Cavs were blind to the issues with Wade in the starting lineup can be put to rest, and Wade should be applauded for willfully taking a lesser role for the good of the team. He could've continued to start and likely would have for awhile if it seemed like that was what he and James wanted to happen. Now, the Cavs can have a little better lineup balance and Lue won't have to worry about making any tough decisions when it comes to trying to keep his stars happy.