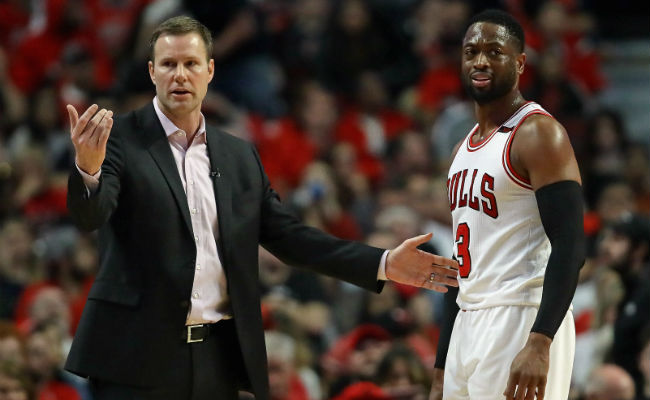 The inevitable has finally happened in Chicago, as Dwyane Wade is finally free. The veteran shooting guard, who opted into his $24 million contract option this summer, will no longer be stuck on the sinking ship that is the rebuilding Bulls.
On Sunday night, K.C. Johnson of the Chicago Tribune reported the long-rumored buyout had finally been completed by the two sides.
This comes after Bulls VP of Basketball Operations John Paxson said buyout discussions had begun, but they needed to be beneficial for the Bulls to make it happen. Simply getting Wade off the team is good for Chicago's goal of being the league's worst team this season, but there were some financial concessions made by Wade to get out and hit the market just prior to training camp.
https://twitter.com/wojespn/status/912133071020843008
As for what's next for Wade, there will be plenty of speculation about his future over the coming days as he could be an option for a number of teams in need of veteran backcourt help. The Cavaliers will of course be a favorite in the minds of many because of Wade's friendship with LeBron James, but the new-look Thunder could also be a fitting destination, and there are those that hope he'll return home to Miami.
Wade has lost a step in recent years, but in the right role, he could thrive. There's no word on whether he wants to be a starter or someone who makes an impact off of the bench, but no matter where Wade goes, that team is about to get better.