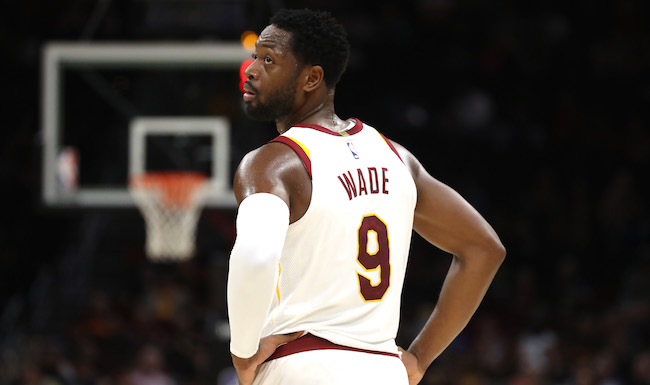 Dwyane Wade got off to a rocky start to his Cavaliers' tenure, but has hit his stride (along with the rest of the team) since being moved to the second unit. Wade is averaging 11.4 points, 3.9 assists, and 3.8 rebounds per game on the season (12.3 points, 4.1 rebounds, and 4.0 assists as a member of the second unit).
Wade's play off the bench for Cleveland has earned him some chatter for the Sixth Man of the Year Award. That award tends to be given to the player that comes off the bench and scores the most points (or, the one that does so for a quality team), as evidenced by the dominance of scorers like Jamal Crawford, Lou Williams, Eric Gordon, and J.R. Smith in recent years.
It's hard to judge the Sixth Man race this early, but Wade certainly will find himself on the short list if his play continues as it has — and if LeBron James continues talking about him as a leading candidate. While LeBron is driving the Sixth Man Award bandwagon for Wade, Dwyane himself isn't ready to accept that kind of individual praise.

Wade told reporters on Monday he was "uncomfortable" with the Sixth Man chatter and pointed out that he might not even have the best case for the award on his own team, noting Kyle Korver's play as part of the bench unit, per ESPN's Dave McMenamin.
"I'm a little uncomfortable with all the Sixth Man talk because I'm out there with a great unit," Wade said Monday. "We all are helping this team be better. Kyle is the No. 1 plus/minus guy on this team, so maybe he's the Sixth Man of the Year. But I'm just having fun with the guys I'm out there with. Right now I'm playing the role that's aligned for me to play. Hopefully it continues. If it changes, then I'll make another adjustment and try to be the best at that. But right now hopefully it stays this way for me."
It's the right thing for Wade to say and also a nice nod to the work Korver has done as a spark plug for that offense this season. Korver has given Cleveland a lift in a number of games thanks to his ability to get unfathomably hot from three-point range and blow a game open in the matter of a few minutes.
On the season, Korver is averaging 10.5 points and 2.2 rebounds, while shooting a silly 44.4 percent from three. Those raw numbers don't add up to a Sixth Man win, but as Wade mentioned, no player on the Cavs (not even LeBron) can touch Korver's on/off splits with regards to net rating. With Korver on the court, the Cavs have a +12.5 net rating (114.1 ORtg, 101.6 DRtg) and a -5.9 net rating with him off the court (108.0 ORtg, 113.9 DRtg).
Wade has a point about Korver and it's nice to see him try to give his teammates some shine, but if the Cavs stay hot and the second unit keeps producing with Wade as its leading scorer, he will continue to be the leading candidate in Cleveland for the Sixth Man Award.