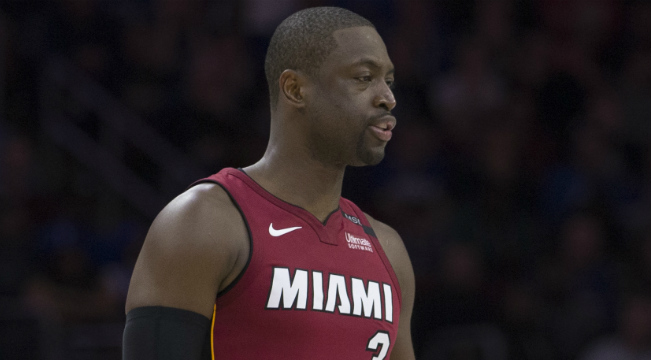 The Miami Heat got ran off the floor in Game 1 of their series against the Philadelphia 76ers. In Game 2, the team decided to do what it had done to pick up huge wins so many times in the past: Give the ball to Dwyane Wade and get out of his way.
While Wade's return to the Heat has had its ups and downs, Monday night was a flashback to the days where Wade was the face of the organization. Miami picked up a 113-103 win, pushing the series to 1-1 as it heads to South Beach.
Wade was absolutely fantastic. The future Hall of Fame guard played 26 minutes off the bench, going for 28 points on 11-for-17 shooting and pitching in seven rebounds. Wade set the tone early, going for 21 first half points and only missing one shot.

The Heat rode this performance from Wade to a 14-point lead at the half. Miami managed to keep Philadelphia at arm's length for the third quarter as well, partly because he was digging deep into his bag of tricks to get buckets.
But this Sixers team — which struggled to connect from three all night — caught fire in the fourth, riding a wave to get Miami's lead all the way down to four points on this gorgeous layup in transition by Dario Saric.
It looked like Philadelphia might have been able to make it all the way back, but there was a problem: The Heat had Wade, and as he's done so many times for the organization, he hit a dagger right in an opponent's eye to seal the win.

Beyond Wade, Goran Dragic had 20 points, while James Johnson filled up the box score, going for 18 points, seven rebounds, five assists, and three steals. For the Sixers, Ben Simmons went for 24 points, eight rebounds, and eight assists, while Saric had 23 points, nine boards, five steals, and three dimes.
They say a series doesn't start until a road team picks up a win, so Heat-Sixers officially became really, really interesting on Monday night. Miami took down the hottest team in the league, and if it can defend its home court over the next two games, the series will return to Philly with the Sixers down, 3-1. Of course, the entire complexion of the series changes if and when Joel Embiid returns to action, but for now, the Heat have to feel fantastic.