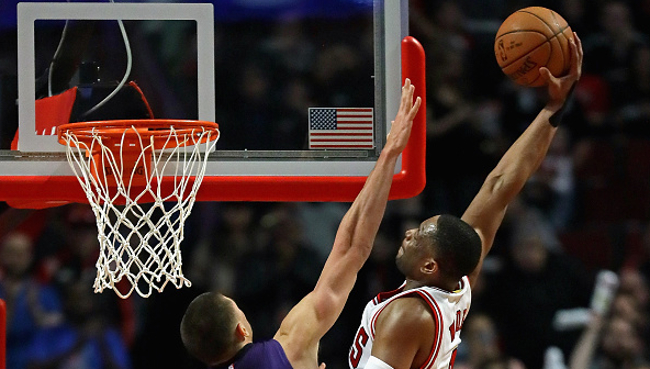 Earlier on Friday night, we gave Dwyane Wade credit for making the wise decision to steer clear of Derrick Jones Jr.'s massive breakaway dunk. At 35 years of age and with his history of injuries, Wade has to choose his battles carefully, and that is precisely what he did later on in overtime when it mattered most.
With the Bulls clinging to a 124-117 lead with less than a minute to play in the extra frame, Wade calmly dribbled the ball at the top of the key, then just exploded to the cup for a massive one-handed tomahawk jam on Alex Len to help seal the victory for the Bulls. He proceeded to raise the roof afterward just to reiterate how old he is.
Father Prime finished with 23 points on the night as the Bulls overcame an 11-point fourth-quarter deficit to win their third straight game. Jimmy Butler added 22 points of his own and nailed a clutch three-pointer late in regulation to tie the game at 106 and eventually force overtime after Devin Booker missed a potentially game-winning free-throw with 1.5 seconds left.
Booker led the way for Phoenix with 27 points, while Eric Bledsoe chipped in 17 points and 10 assists. The Bulls will play the second game of their back-to-back against the Cleveland Cavaliers on Saturday as Wade faces off against his old buddy and former running mate LeBron James.