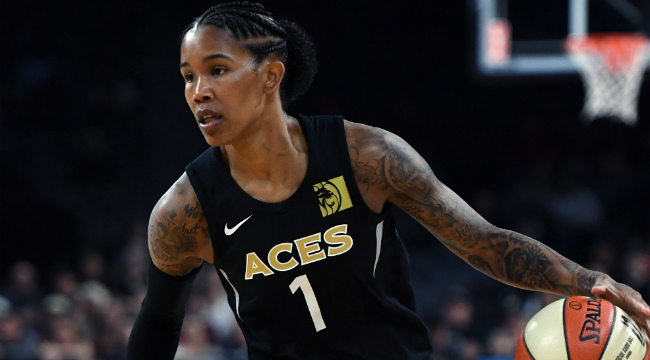 There aren't many people on earth who are bigger sneakerheads than Tamera "Ty" Young. Aaron Dodson of The Undefeated wrote about the Las Vegas Aces' veteran forward, who estimates that she has more than 500 pairs of sneakers in her vast collection. This is despite the fact that Young, at no point during her NBA career, has ever had a deal with a sneaker company and will oftentimes get hooked up by teammates, friends, and sometimes Instagram followers.
The story also featured an anecdote about Young getting a warning about a $500 fine from the WNBA for one of the dumbest thing imaginable. Young got hooked up by Dwyane Wade with a pair of his ultra rare Li-Ning kicks, proceeded to wear them during a game, and got fined for wearing unauthorized shoes.
Three-time NBA champion Dwyane Wade has also looked out. Last fall, he sent her a pair of "The Edition x Li-Ning" Way of Wade 6s that dropped exclusively in Miami during Art Basel. Young has pair No. 134 of 500. They're the shoes she picked from her sneaker room to wear against the Atlanta Dream, and she found them hiding under an unboxed pair of "Solar Red" Nike Yeezy 2s.

The day after the game, Wade posted an Instagram photo of Young in his shoes to congratulate her on becoming the first player in WNBA player to wear Li-Ning. She also received a note from the league — a warning of a $500 fine if she wears the shoes again. Because she's not signed to Li-Ning, and because the WNBA is sponsored by Nike, she can only wear Nikes and Jordans.
This is the kind of thing you'd hope everyone kind of ignores, because it's really cool that Young got the opportunity to wear a pair of ultra-rare kicks during the game. However, the WNBA wasn't cool with her decision, which led to this warning going out.

Wade learned about this on Friday, and upon seeing it pop up, encouraged Young to rock the sneakers during a game and shoot the fine his way.
It would rule of Li-Ning responded to this by just giving Young an endorsement deal so she can wear their sneakers whenever she wants, but this isn't a bad alternative.
(Via The Undefeated)