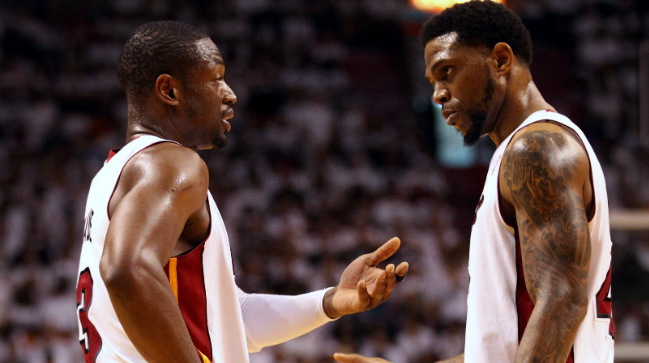 Dwyane Wade and Udonis Haslem will forever share a bond. The two joined the Miami Heat at the same time — Wade was taken with the fifth pick in the 2003 NBA Draft, while Haslem signed with the team that same year. They were teammates up until Wade left the team to join the Chicago Bulls last season.
Wade is currently in Cleveland, coming off the bench for the Cavaliers. Haslem is still in Miami, although he hasn't played much this season. And on Tuesday night, the two got to link up after their teams played one another.
The Cavs beat the Heat, 108-97, in a game that was notable because LeBron James got ejected for the first time in his NBA career. But after the game, a really cool moment took place as Wade and Haslem sought each other out and exchanged jerseys.

After this went down, Wade took a moment to discuss his relationship with Haslem, highlighting the fact that he loves his former teammate and considers him a brother.
It is legitimately really cool to see how tight Haslem and Wade are, if only because it feels so genuine. Hopefully Haslem gets his wish and, whenever Wade decides to end his career, he heads down to Miami so the two can be teammates one last time.