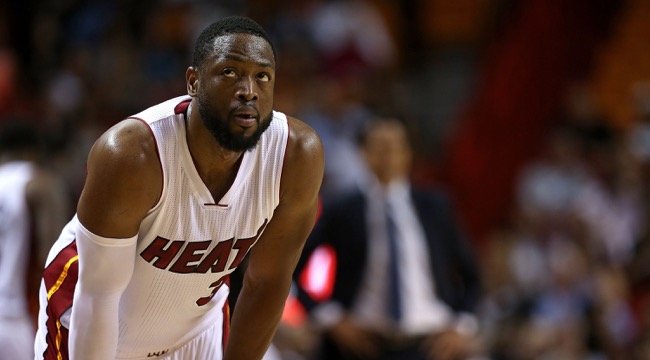 One of the most exciting parts of the NBA offseason, free agency, gets started on July 1. Of the more intriguing storylines involves Miami's Dwyane Wade, who has until midnight Tuesday morning to decide whether or not to opt-in for the final season of his current contract.
And confirming a long-held suspicion, Wade is expected to let the deadline pass, thus allowing him to become an unrestricted free agent on Wednesday.
Wade's contract with Miami is worth about $16 million, but he hasn't done the best job of easing Heat fans' fears of a Wade-less Miami team. For starters, he referred to being with the Heat in the past tense while working ABC's broadcast of the 2015 NBA Finals, and he's also reportedly expressed interest in both the Los Angeles Lakers and Los Angeles Clippers.
Wade would be able to team up with Kobe Bryant if he went to the Lakers, but would the two have enough — with respect to their ages and pieces around them — to make a legitimate run of any kind? There have even been rumors swirling of Wade wanting be reunited with LeBron James in Cleveland, but the Cavs likely won't have the cap space to afford Wade even with James, Kevin Love, Iman Shumpert, J.R. Smith and Tristan Thompson expected to join free agency.
We'll find out much more about Wade's future once free agency finally tips off on Wednesday.
[Via Michael Wallace]