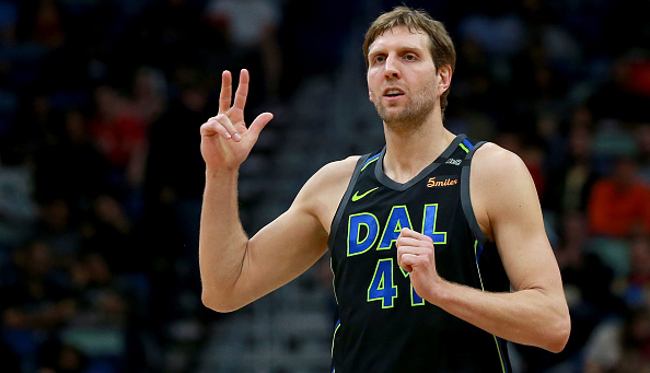 Though he's remained circumspect about his future, most of the NBA is proceeding under the assumption that Dirk Nowitzki will retire at the end of the season. The 40-year-old veteran is now in his 21st season, tying the record for the longest career in league history.
Dirk's impact and overall productivity have obviously declined in recent years as age has taken its toll, and his playing time on a Mavs squad that is looking toward the future feels largely ceremonial at this point.
Naturally, Dirk's friends and teammates want to take the opportunity to reminisce about their favorite memories of a player who has provided so much humor, goodwill, and legendary moments on the basketball court, and they were given that opportunity in a new oral history of his career published on Monday.
Among the many tales was the following tidbit from former teammate Elton Brand, who talked about the moment Dirk earned his right, in his eyes, to relax a little on the defensive end of the floor. Via James Herbert of CBS Sports:
Elton Brand, Mavericks center, 2012-13: I remember one game against Carlos Boozer, I know Boozer wants to go left. I'm screaming at Dirk, at Dirty, "Send him right, send him right!" Boozer goes left and scores. And then scores again. And I'm frustrated. I'm just like, "Goddamn, Dirty! Send him right!" And then Dirk hits two dagger 3s to win the game. I go back and apologize: "Look, you never have to play defense again, man."
It is in many ways the perfect microcosm for his career. Dirk was never known for his defensive prowess, but he more than compensated for that with his lethal scoring ability, particularly from long range.
Dirk will play in what might very well be his final home game in Dallas on Tuesday night against the visiting Suns, and Mavs owner Mark Cuban has promised a special night for the future Hall-of-Famer, regardless of the ambiguity surrounding his potential retirement. Along with Dwyane Wade, the NBA could lose two of its brightest stars of the last two decades when the season comes to a close on Wednesday.
(Via CBS Sports)