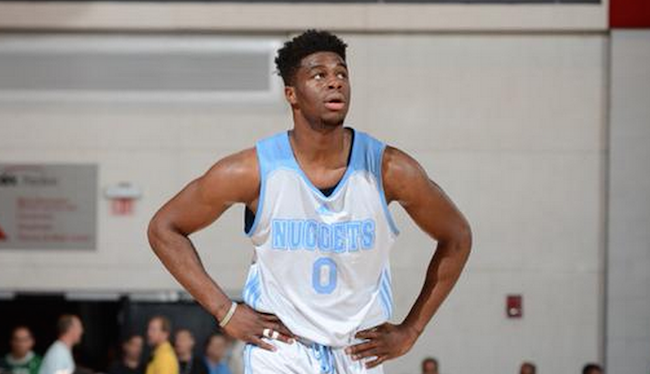 Disclaimer: Summer League isn't a reliable indicator of a player's real NBA worth. What suggests success to come in July isn't box score stats or even made jumpers, grabbed rebounds, or dished assists; it's the how and why behind them that matters most.
19 points, 10 assists, and three steals on 7-of-15 shooting is an impressive line by itself. But what makes Emmanuel Mudiay's domestic pro debut far more noteworthy than numbers alone is the feel, comfort, and advanced playmaking instincts he exhibited against the Sacramento Kings.
Though one of several consensus top prospects in the 2015 draft, the Denver Nuggets lottery pick was firmly behind the Los Angeles Lakers' D'Angelo Russell in the point guard pecking order. Why? In addition to a reliable jumper, most assumed Mudiay lacks the natural vision and creative flair that could make Russell such a devastatingly effective lead ballhandler. In Las Vegas, though, he's already begun proving that assumption premature.
Mudiay rejected a screen, drew an extra defender, and threw a pin-point kick-out to an open shooter for his first NBA assist:
He used a pick, took an extra dribble to manipulate the defense, then flung a backhanded skip pass for another trey:
Shortly after dazzling the crowd with a behind-the-back dish in transition, he attacked a close-out with a pump-fake, drove the baseline, and threw an airborne pass to the corner where a drifting teammate awaited:
These are plays that are commonplace in the NBA; lead creators are expected draw the defense's attention and set their teammates up for  easy scoring opportunities. But passes like the above are still far more difficult than they appear, and that's mostly because the players completing them have an exceedingly rare blend of skill, athleticism, and basketball IQ.
We knew Mudiay had the first two attributes, and it's clear he has at least a strong base of the latter one, too. While his understanding of pace and angles is obvious, it's the ability to see movements developing before they occur that really stuck out about his play on Sunday.
How many 19-year-olds would ask for a re-screen, snake the pick to goad a switch, then have the presence of mind to bend the defense even further by creasing the paint?
That's a sequence normally reserved for innate floor generals. If Mudiay turns out to fit that rare mold? His size, explosion, and ever-improving outside game will have him bound for stardom sooner rather than later.
Mudiay and the Nuggets play their second Summer League game on Monday night.
[Videos via FreeDawkins]