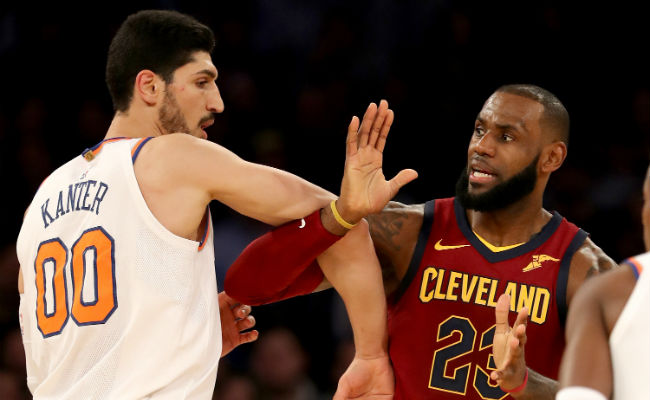 Enes Kanter hasn't been a name that has popped up as a snub for the 2018 NBA All-Star Game, even though he's had a nice season for the New York Knicks. In his first year with the franchise, the 25-year-old big man is averaging 14 points and 10.1 rebounds in 25.5 minutes per game — not exactly All-Star numbers, but still, they're the kind of respectable stats that you'd expect out of a guy like Kanter.
Still, on the heels of Kevin Love suffering a broken hand that is expected to keep him out for 6-8 weeks, there's plenty of intrigue about who can fill his spot. Guys like Ben Simmons and Jaylen Brown will probably be perturbed if they don't make it to the game, while Dwyane Wade thinks Goran Dragic deserves a spot.
Someone in the New York media decided to ask Kanter about possibly making it. Because he'd be on LeBron James' team, and James and Kanter don't exactly like each other, the big man had a delightful response to the question.

It's hard to imagine a scenario where Kanter does make it to the All-Star Game just because of some of the other guys on the board, but it's good to know that he has a sense of humor about the whole thing. Unfortunately for him, there's no known mechanism for requesting a trade during the All-Star Game, so he's stuck on James' team if this happens.