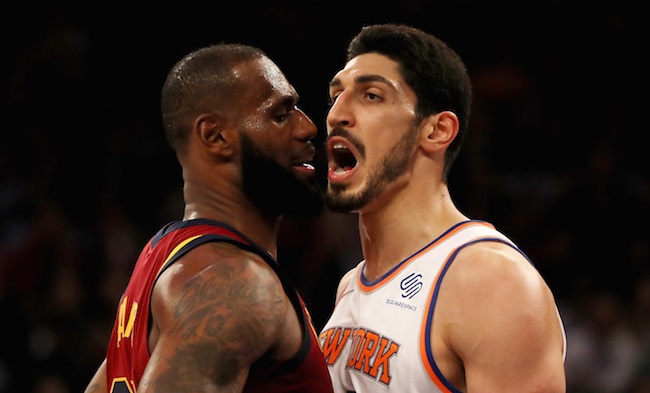 LeBron James and the Cleveland Cavaliers dispatched of the Miami Heat with relative ease on Tuesday night, winning 108-97 for their ninth straight win.
That wasn't to say the game wasn't without incident or controversy, as LeBron found himself upset with the officiating, despite the score not being close. Late in the third quarter, a no-call on a James drive led him to blow up on referee Kane Fitzgerald, who was having none of it and tossed LeBron from the game with two quick technicals.
It was the first time in James' career that he was ejected, ending his streak of 1,081 games played without getting sent to the locker room early. That's an incredible streak (especially considering how often he does complain to officials), but it also set LeBron up for a little light trolling from Knicks forward Enes Kanter. Kanter, of course, has become something of public enemy no. 1 for LeBron of late after their war of words and physical dustup in New York.

James won that battle (and seemingly the war) with a win over the Knicks and his famed "King of NY" Instagram post. On Tuesday, Kanter took the opportunity to troll James back, by posting a picture of James getting ejected and calling Fitzgerald the "King of Cleveland."
It's pretty funny, even if James and his fans will likely point to this being none of Kanter's business and how Enes shouldn't talk because LeBron already handled him. While that's all true and a valid point, it's still incredibly funny to watch as an innocent bystander to all of this pettiness and is yet another example of why the NBA is so much fun. Kanter is just following along with the game like the rest of us and, like a regular NBA Twitter user, when he's got jokes he lets them fly. We'll all make some popcorn now and wait for the inevitable response.