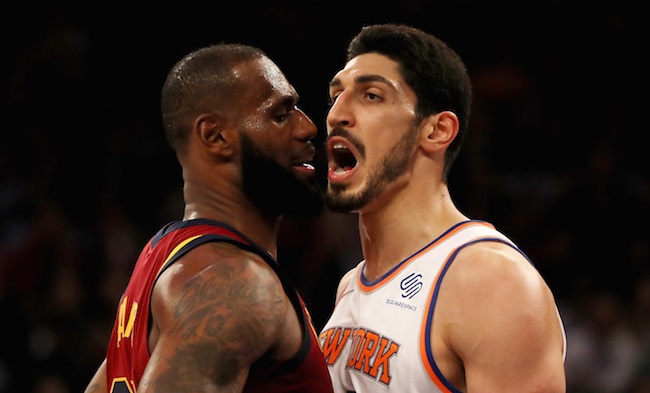 The New York Knicks made the first big splash hire of the offseason by inking a four-year deal with former Grizzlies coach and Heat assistant David Fizdale in what was a very popular move around the league and inside the Knicks locker room.
Fizdale is among the most well-liked coaches in the league and most all of his former players love him, with Marc Gasol being the obvious notable exception. Among those former players that hold Fizdale in high regard is LeBron James, who publicly questioned his firing in Memphis earlier this season. Naturally, when Fizdale was hired by the Knicks there were rumors they might look to pursue him in free agency, pitching him on a reunion with one of his favorite coaches.
While the Knicks don't seem to have any real chance of landing LeBron, if for nothing else than for purely financial reasons, that won't stop them from hoping and possibly trying to land a meeting with The King this summer. Enes Kanter, who beefed with James earlier this season, has now made a 180 on LeBron and is joining in the push for James to come to New York, inviting him to "prove" he's the King of New York by joining the Knicks.

Kanter is referencing their spat over James calling himself the King of New York on Instagram, to which Kanter took offense and rebutted by saying that title belongs to Kristaps Porzingis. It's an interesting turn given how he claimed he wouldn't want to be on LeBron's team even in the All-Star game, were he an All-Star, but the most ironic part of all of this is the only chance the Knicks would have at landing LeBron is for Kanter to decline his player option and leave the team.
Kanter is scheduled to make $18.6 million on his player option next season and that would go a long way towards clearing cap room (along with waiving a couple non-guaranteed deals and getting Ron Baker and Kyle O'Quinn to decline player options as well) to creating close to $30 million in cap space. It's almost assuredly not going to happen, but if Kanter really does want James to go to New York, it would have to come at his own personal expense to get him there.