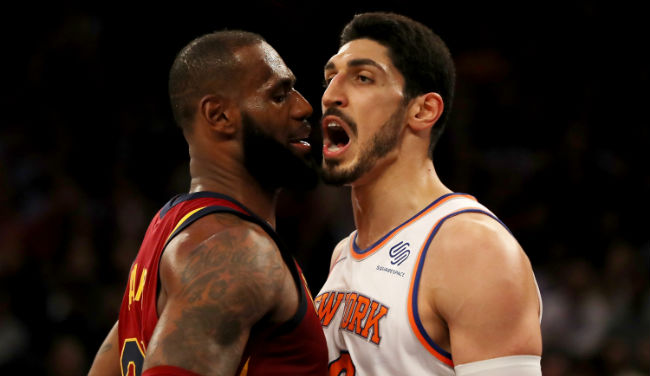 Enes Kanter and LeBron James are currently engaged in a bit of a tiff, and in a weird way it's all Russell Westbrook's fault.
James and Kanter went at it on and off the court this week in a feud that started when LeBron tried to get in a dig at former Knicks president Phil Jackson. LeBron and Jackson have history, and James decided to twist the knife when he said that Dennis Smith Jr. should have been drafted by the Knicks this summer.
That comment didn't sit well with Kanter, who wasn't even on the team until a few weeks ago. But he called out James, the two scuffled on the court, and exchanged words after James carried the Cleveland Cavaliers to a win against the Knicks at Madison Square Garden on Monday.
In a story published on Wednesday, Kanter said he's learned you can't be friends with the people you play against once basketball starts. Despite the fact that Kanter knew James from playing pickup games with he and Carmelo Anthony, he's not going to let an outsider criticize his team and the players on it.

"I actually was cool with him,'' Kanter told the New York Post. "Outside of basketball, I've got no problems. But I've been telling all my teammates, whenever we step on that court, there is no friends, don't shake nobody's hand because they're not going to feel bad for us. Every night it's a war. Don't be friendly. Don't smile at nobody because those guys are your enemy. So I just keep talking to my teammates. We've got to bring that dirtiness in us.''
Kanter said it was Russell Westbrook, his now-former teammate in Oklahoma City, who taught him the nuclear path to fierce competitiveness.
Kanter said he will continue to preach standing up for teammates. Just as Westbrook taught him. On his return to Oklahoma City on opening night last month, Westbrook wouldn't shake Kanter's hand.

"I remember I was in OKC and I was saying hi to a couple of my (ex)-teammates and I was getting yelled at, cussed at by Russell,'' Kanter said. "Because he's got the same mentality. Whenever you step on that court, you try to kill them. We've got to bring the same thing here.
Kanter said this mentality is different than when he went back to Utah, where he started his career, as a member of the Thunder. Kanter described giving love to his former teammates in Utah, something that doesn't appear will happen with him anymore.
""I was shaking everybody's hand,'' Kanter said. "I was giving hugs. And I was giving kisses, European kisses to everybody. Now I'm just playing, That's what I learned from Russ."
It might be a minor note, but it does point to a marked change in the way Kanter and Kristaps Porzingis see the Knicks in the league. It's serious business, and LeBron James' opinion on the team doesn't appear to matter unless he wants to join the Knicks himself.