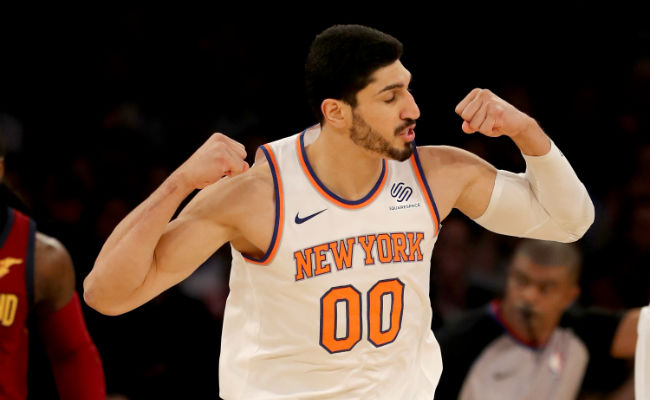 Enes Kanter has been a spark plug for the Knicks in his first year in New York. He's instilled a very distinct attitude with the team, and he's shown he's unafraid to stand up for himself and his teammates on and off the court.
He verbally and physically mixed it up with the King of New York, LeBron James, a few weeks ago, and though he wasn't around for the struggles the Knicks had under Phil Jackson, he's not going to let his teammates suffer any abuse because of the past.
It's something Kanter said he learned from Russell Westbrook, though maybe he should not tell the Knicks to fight people on the court. Kanter missed New York's game on Monday with back spasms, but he reportedly told a teammate that he would pay their fine if they were to get into a fight with someone on the court, which didn't sit particularly well with the organization.

(via the New York Daily News)
"It will get the energy up," Kanter said on Monday. "No, I'm serious. If you go out there and just hit somebody or just fight with somebody, get a technical foul, I will pay for the fine, I don't care."
The Knicks were not thrilled with Kanter saying that out loud, though, and he was forced to issue an apology on Tuesday.
"The front office told me I cannot say stuff like that," Kanter confessed Tuesday following practice. "It's a learning process. This is my second language. When I say fight it means compete, play hard, compete. You get a tech; you get a tech. They told me I cannot say stuff like that. I'm sorry about that. I'm sorry NBA, my fault."
Though it may seem like a bit of a weak excuse, the Turkish-born Kanter does have a bit of a point. He's learned to speak English mostly through basketball, and the sports world is awash with war metaphors and fight-or-die cliches. Perhaps he didn't mean someone should physically fight, but he definitely wants the Knicks to have a physical edge to their play. When he gets back on the court, he'll continue to try and bring that.