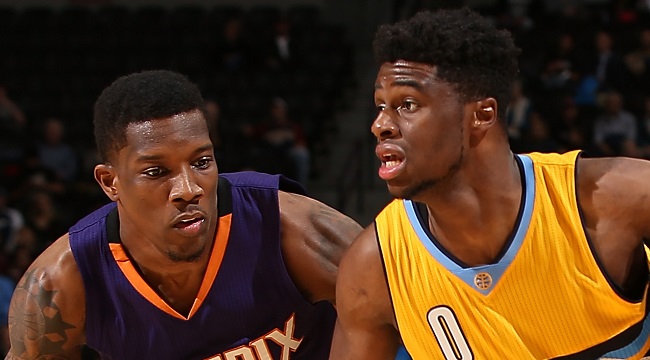 The Eric Bledsoe era is already underway in Milwaukee and the early returns are strong. There is still work to do for the Bucks when it comes to integrating the former Phoenix Suns point guard into a (very) interesting team but Milwaukee is 4-1 since the deal to snatch Bledsoe away from the depths of lottery despair and that move seems to be working.
With that as the backdrop, the trade eventually completed by the Bucks nearly didn't happen, simply because Bledsoe was almost shipped elsewhere. There were a number of teams vying for Bledsoe's services, with the Suns trying to navigate the trade market to get the best return possible.
Zach Lowe of ESPN brings word that, in the midst of buzz surrounding the Denver Nuggets and a desire to move away from Jameer Nelson (eventually released), the team was "in the red zone" for a deal to acquire Bledsoe from Phoenix in exchange for point guard Emmanuel Mudiay and a draft pick.
Around the same time, the Nuggets were in the red zone — if not at the goal line — in talks with Phoenix for Eric Bledsoe, according to several league sources. The deal would almost certainly have included Mudiay and a first-round pick. Talks collapsed, and the Nuggets washed their hands of it. They would chase a playoff spot in one of the toughest conferences in history behind a 20- and 21-year-old sharing the controls with Jokic.

There is some interpretation to be had here, especially when deciphering the meaning of "red zone" versus "goal line," but it is clear that the Nuggets were firmly in the mix for Bledsoe's services. On the Phoenix side, this deal likely would have made a bit more sense, if only because Mudiay is young and talented in a way that might fit well with the Suns' developing core. That isn't necessarily the case with veteran big man Greg Monroe (acquired from Milwaukee in the actually consummated Bledsoe deal) and, even if there are mixed feelings surrounding Mudiay in the league, he brings upside that Monroe simply does not.
Denver's decision to jettison Nelson is an interesting one as well and, frankly, the Nuggets face a nightly question mark at the point guard position. If nothing else, this will be an intriguing "what if" for the remainder of the season and Denver's ultimate performance could be clouded by its indecision in not offering a deal that would have added a proven entity at the helm of the offense. The Bucks are better as a result of adding Eric Bledsoe and the Nuggets likely would have been had they chosen to pull the trigger. Only time will tell as to whether that reluctance will prove to be wise course of action.