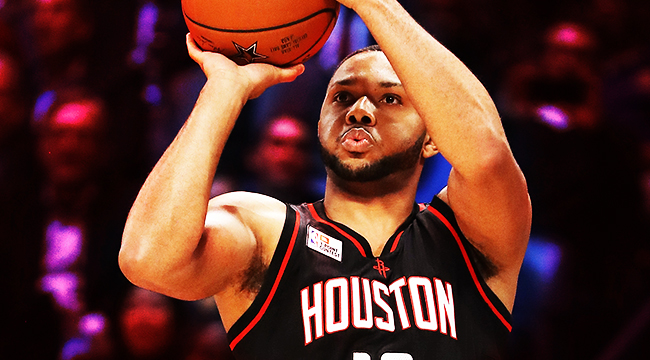 You might not know it based on most of the discussion of the game over the 48 hours between Games 1 and 2 of the series between the Golden State Warriors and the Houston Rockets, but there is actual basketball being played in between the referees' calls and non-calls.
After a closely contested loss in the series opener, the Rockets have many questions to answer, but perhaps chief among them is the age-old query: how can Houston hold the fort for the few minutes James Harden rests each game? When they acquired Chris Paul in 2017, he was supposed to be the answer to that question on top of everything else he can do on the floor, but the Point God has trouble impacting the game at a high level against these Warriors, especially in lineups that can switch nearly across the board.
Enter Eric Gordon.
One of Houston's two splashy 2016 signings, he and Ryan Anderson were brought in to boost the team's offense around Harden and help take the team to the next level in terms of competitiveness in the Western Conference. One of those signings flamed out spectacularly, with Anderson having been traded twice in the last year and likely to be released from his contract this summer, but the other has flourished with the Rockets. Gordon has become nearly indispensable with his combination of outside shooting and defensive fortitude, but it's a secondary area of his game that showed up in a big way in Game 1 to provide Houston with a scoring boost they needed.

Given how often he stands 30-plus feet from the rim, it would be easy to forget that Gordon's been an above-average finisher at the rim for the last two seasons. After a few years in New Orleans in which his play fell off a cliff amid injury problems, he's been reinvigorated by the move to Houston, which has manifested itself in extended range on his jumper along with more strength and physicality in his game. Harden isn't the only Rockets guard capable of holding his own in the post against bigger players; Gordon is just as good at banging with the bruisers down low and adds to Houston's switch-everything defensive scheme they've revived for this playoff series against Golden State. His strength primarily shows up on the defensive end, but his ability to get into the lane and finish through contact was a boon for Houston in Game 1 and will need to continue if the Rockets are to bounce back and take Game 2 on Tuesday night.
Gordon's ability to score at the rim is massive for the Rockets whether Harden is on or off the floor. Given how much of the usage load is on his shoulders, any possession that brings a positive result without Harden having to create something out of nothing is a win for Houston. In particular, Gordon was able to push the ball in transition and semi-transition to pick up quick points for a Rockets team that normally pounds the air out of the ball offensively, especially against the Warriors.
After a blip last year that saw it fall apart, Golden State has consistently been one of the best transition defenses in the league. Over the last two years, Houston's transition offense has given way to the halfcourt, as Harden has developed into the best isolation scorer in NBA history and Paul has aged out of being able to run his teams up and down the floor constantly. A more methodical Rockets team is perhaps slightly more predictable than it was previously, though it's still devastatingly effective against just about any defense in the league. Gordon gives Houston the jolt they need in certain moments with his ability to go through defenders to the rim in transition.
Without Harden, the Rockets struggled to find consistent offense in Game 1. Paul was able to make it work in the midrange against the deep drop pick-and-roll coverage Golden State employed when Andrew Bogut was manning the middle in the second quarter, but once the Warriors went away from Bogut in the second half, Paul had some issues. At this point in his career, he has more trouble breaking defenders down off the dribble and the Warriors' switch-heavy scheme makes it more difficult for him to snake pick-and-rolls to get back to his favorite right elbow jumper.
How Houston generates buckets without Harden is going to be an issue throughout the series, but leaning more heavily on Gordon could be the answer for which they're looking. He didn't play all of the non-Harden minutes in Game 1, but if Mike D'Antoni slightly alters his rotations so that Paul and Gordon are always on the floor together when Harden sits, the Rockets should have enough on both ends of the floor to survive those minutes. The pair can play off one another well and if things break down, Gordon has shown that he's capable of bullying his defender in order to get to the basket. Gordon's scoring, especially in transition, brings a much-needed element to a Rockets team that is heavily reliant on Harden to create anything and everything offensively.
Houston has gotten away from the running and gunning it had earlier in Harden's career, but those few points each night Gordon can give them by running through the Warriors' transition defense are immensely important in a series during which easy buckets will be very few and far between.