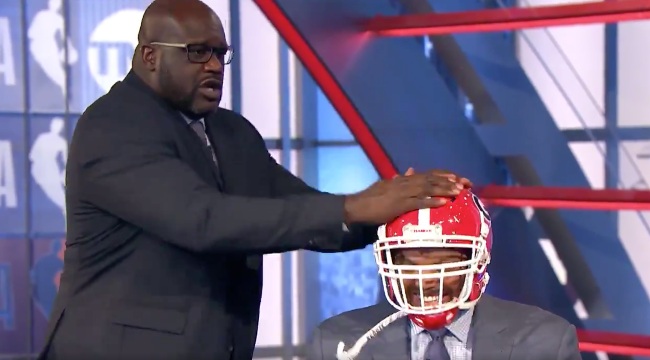 The 2017 college football season was pretty kind to the Georgia Bulldogs, as Kirby Smart's team reached the national title game before succumbing to Alabama. However, the low point of Georgia's season came in a 23-point blowout loss to Auburn in November and, when that occurred, Inside The NBA personalities Ernie Johnson and Charles Barkley engaged in some shenanigans.
Of course, Barkley is perhaps the most famous alumnus of Auburn, whereas Johnson attended Georgia. That confluence led the entire TNT panel to pile on Johnson following the lopsided contest and, in short, hilarity ensued.
The 2018 battle was much kinder to Georgia, as it thumped Auburn by a 27-10 margin this past week. On the heels of that result, Johnson had the opportunity to deliver a bit of payback to Barkley, as the two had a friendly pregame wager.

As you can see, Barkley had the joy of wearing a Georgia football helmet and a theoretically unbiased party, LSU alum Shaquille O'Neal, decided to jump in the fun. O'Neal hammed it up in a way that he often does and, as usual, this particular panel provided entertainment that wasn't directly involved with NBA basketball.
At this point, the Georgia-Auburn rivalry should provide annual fireworks between Johnson and Barkley. If that is the case, we'll be able to enjoy the aftermath, regardless of which SEC program happens to come out on top.