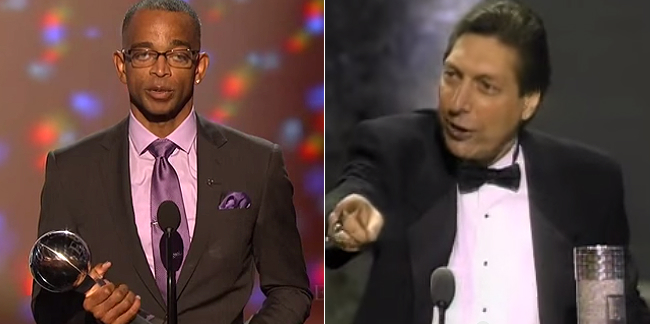 ESPN will broadcast the 23rd annual ESPY Awards on Wednesday night. Since its premier in 1993, it's been a night for athletes and Hollywood to come together to honor the previous year's greatest achievements in sports. Or something like that.
For the most part, the ESPYs have always provided at least a moment or two that people will talk about the following day. In some cases, people are still talking about them decades later. Being that the host is usually an actor or comedian who's been tasked at keeping the audience entertained, odds are good that you'll get some decent laughs. And because proceeds from ticket sales go to the V Foundation for cancer research, the night is always ripe for a heartwarming speech, as well.
Today, we honor those moments with a top 10 list of the greatest moments in ESPY history.
10. Drake vs. Blake (2014)
This video actually breaks my rule of celebrating anything that features Chris Brown. In fact, if not for that, this might have ranked higher on the list. Nevertheless, Blake Griffin seems game for anything in this skit, and his Drake impersonation is outstanding.
9. Will Ferrell accepts Tiger Woods' Athlete of the Year award (2008)
Tiger was not in attendance to accept his award for Male Athlete of the Year. Thankfully, Will Ferrell was. If Tiger were giving this speech himself, it would have been boring and pointless and would have offered us nothing. But with Ferrell speaking on Tiger's behalf, it became an exercise in how to brag about receiving an award that, at the time, was honoring the greatest athlete on the planet.
8. Justin Timberlake's opening monologue (2008)
By 2008, Justin Timberlake was already being recognized as one of the best Saturday Night Live hosts of all-time, so hosting the ESPYs would have been no problem for him. He proved as much with an opening monologue that was equal parts funny and relevant, with jokes that I'm sure were topical at the time. The Eli Manning joke at the 4:55 mark is worth it if only for when the camera cuts to Eli and his embarrassed date. Poor woman.
7. Jamie Foxx sings to Serena Williams, "Can I Be Your Tennis Ball?" (2003)
What's better than a serenade to an athlete? How about a serenade that's over-the-top and ridiculous and keeps going and embarrasses the subject to the point where she can't stop covering her face and ends in a lapdance? That was Jamie Foxx's ode to Serena. I actually wish it would have gone on longer. With back-to-back hosting duties in 2003 and 2004, Foxx probably gave us enough material to have made this list multiple times, but for me, his serenade ranks as his best.
6. LeBron James sings "My Prerogative" (2007)
He's wearing Hammer pants, and he's singing Bobby Brown. This would have broken Twitter if it would have happened five or six years later. Maybe he'll do an encore one day and we can find out for sure. For now, it'll have to continue making its living on YouTube and hacky Internet lists.
5. Gronk and his brothers do wheelbarrows on the red carpet (2012)
Unfortunately, video of this event has not been uploaded anywhere, so this image will have to do. It really needs no explanation; it's simply the Gronk brothers at Peak Gronk, doing wheelbarrows on the red carpet.
4. Justin Timberlake sings "I Love Sports" (2008)
I didn't mean for this list to be an ode to J.T., but he's on here twice because the 2008 ESPYs when he hosted are what all the broadcasts since then should strive to be; a reason to celebrate sports while laughing and being entertained for a few hours. If you like Timberlake in his "bring it on down to [whatever]-ville" bit on SNL, then you should like this, as well. Plus, it also features Greg Oden singing at a piano, so there's that.
3. Norm Macdonald's opening monologue (1998)
This monologue was Norm Macdonald at his finest. It was biting, and harsh at times, and it was wonderful. People say he couldn't get away with some of these jokes if he hosted today. I don't know if that's true, but we may not ever know because it's doubtful he'll ever be asked to host again. That's a shame. The ESPYs need to get back to what made them great… strippers and crack.
2. Stuart Scott's speech (2014)
I won't let potential claims of recency bias prevent me from giving ESPN's tribute to one of their own the second spot on my list. The video starts with a tribute that leaves not a dry eye in the house, and Stuart Scott's speech that followed was powerful, awesome, and exactly what the ESPYs are about.
1. Jim Valvano's speech (1993)
Regardless of what happens at the ESPYs from now on, lists like these will always end on Jimmy V. LeBron could show up on Wednesday night and announce he's quitting basketball to become a fisherman, and it would still only be No. 2. Valvano's speech announced the launching of the V Foundation, a global foundation for cancer research that's now 22 years old and still going strong. It's pretty much the reason we're here today. I realize it's not easy to make it through a series of 10-minute videos, but trust me, this one is worth your time at least once per year. Don't give up. Don't ever give up.