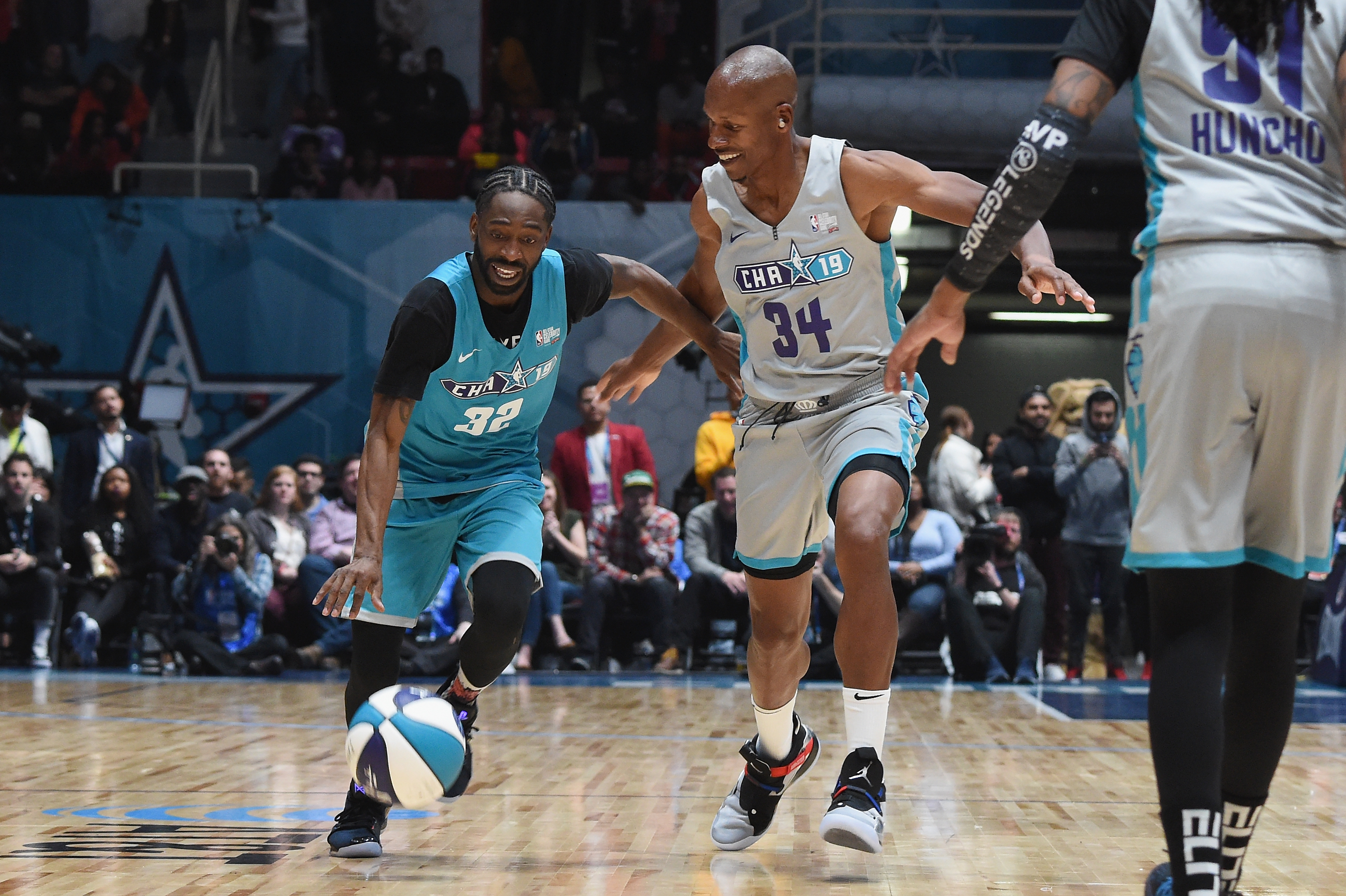 CHARLOTTE — The celebrities came out en masse on Friday night at Bojangles Coliseum on Friday night for the NBA's annual All-Star Friday night extravaganza. No, it wasn't the Rising Stars Game — that happened a few miles down the road — but rather the Celebrity Game, an annual celebration of famous people who like to play basketball.
Amid all of this — on a court where Jay Williams, Stefanie Dolson, Ray Allen, Steve Smith Sr. and A'Ja Wilson took the floor — the last thing you'd expect to see might be basketball social media star Famous Los absolutely beasting on the court. However, that's what happened, to the point that Los turned in a deserved MVP performance en route to leading the home squad to an 82-80 victory.
During the game's first half, Los took it upon himself to go toe-to-toe with Allen. Doing something that not even the legendary sharpshooter has ever accomplished, Los stepped behind the game's Four-Point Line and buried a bucket, getting fouled and converting the first-ever five-point play.

Los squared up Quavo, last year's MVP, and fired before the Migos member could even react. Quavo did, however, clumsily plow into Los and commit a foul.
"We were trying to play basketball without dribbling," Los told the media after the game. "Seeing Quavo, I had to just shoot it. Four point play, though!"
Los reveled amid the opportunity to play ball 144 miles from where he first started playing hooping in Durham, talking lighthearted trash to Dwyane Wade — he was sitting courtside — about his version of his stepback. He finished off the first half only missing one shot, going 7-for-8 from the field and sitting atop the scoring list with Allen, clearly trying to show out in front of friends
"I was just gonna go try and get the MVP," Los said. "Switches, any mismatches, I wanted to score, I was just gonna try to go get the MVP the easiest way possible."
The second half saw Quavo and Allen lead a torrid charge after being down nearly 20 points at certain points in the third quarter. But it was too little, too late, even with a late chance for the away side to put the game into overtime. Los did cool off a bit down the stretch, so instead, he made it a point to facilitate for his teammates. In all, Los ended the game with 22 points and three assists.

But making the right plays and all, it was obvious that unless the Home squad lost, that Los' first half was enough to net him the MVP trophy. He received quite a push for the award, though, both from the other team — Quavo went for 27 points and nine rebounds, Allen had 22 and nine — and on his own squad, as former Duke star and ESPN analyst Jay Williams stuffed the stat sheet: 18 points, five assists, four steals, four rebounds.
After the game, Los was asked about how it felt to be named the best player on the floor with some people who hooped — and in the case of Dolson and Wilson, still play — for a living. It hadn't dawned on him in the moment, but once he thought through it for a second, it was obvious to Los that a certain college basketball team in his hometown might have made a mistake when they didn't offer him a chance to play.
"Well now that you put it that way it might sound crazy," Los replied with a laugh. "Maybe I should have went to Duke."