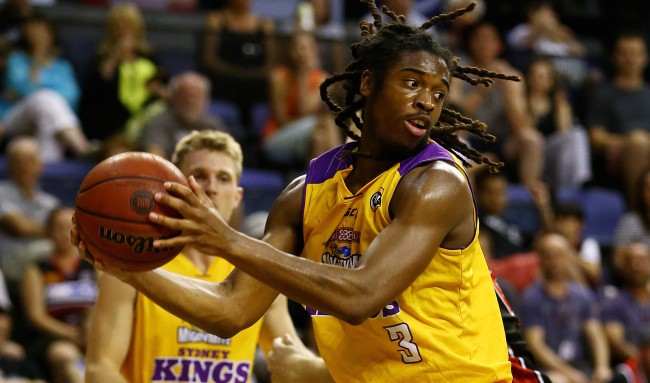 The National Basketball League (NBL) in Australia is investigating a fan who poured beer on Marcus Thornton of the Sydney Kings (not to be confused with Marcus Thornton of the Houston Rockets) during Wednesday's game with the Illawarra Hawks.
The incident occurred when Thornton drove to the basket and fell to the floor. Because of the proximity of the fans to the court, a fan drinking a beer decided it would be a swell idea to pour some of his adult beverage on Thornton.
Perhaps the most amazing part was the fan acted like nothing had happened and just took another swig of his beer.
https://media.giphy.com/media/3o8doQSDU0oxMQ9bri/giphy.gif
A statement from the NBL read as follows:
The National Basketball League (NBL) will not tolerate behaviour by any person that jeopardises player safety. The NBL places the utmost importance on the safety and well-being of its players. NBL General Manager Jeremy Loeliger is currently in Wollongong and will be reviewing the incident with Illawarra Hawks staff and venue management this morning.
"This is 2015, not 1974. That's all I should say about it," said Kings coach Damian Cotter. "But that's dropkick behaviour. I mean, really, how unsophisticated and how much of a drongo do you want to be? It shouldn't happen in the first place."
The exact punishment for the fan remains to be seen, but it's a safe bet he won't be attending any games very soon.
Thornton was a second-round pick out of William & Mary in the 2015 NBA Draft by the Celtics. The Hawks are 5-6 on the season while the Kings are in last place with a record of 3-9.
https://media.giphy.com/media/1iTJ8K0RscNkQLIs/giphy.gif
Shameless.
(Via SMH.com)