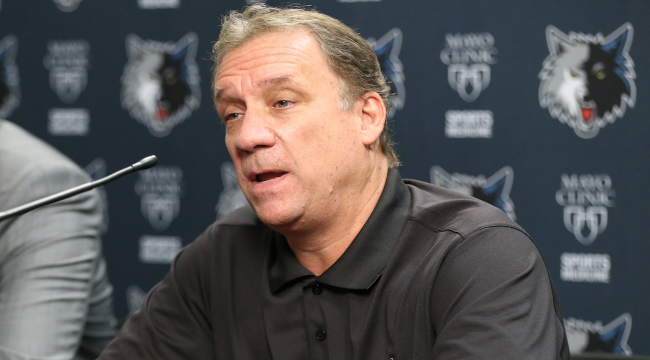 The Minnesota Timberwolves will play this season without the guiding hand of their head coach. Nevertheless, basketball concerns are surely furthest from the minds of Kevin Garnett, Andrew Wiggins, and company at the moment.
According to Jerry Zgoda of the Star Tribune, owner Glen Taylor says Flip Saunders will not be returning to the team in 2015-16 as he continues battling Hodgkin's lymphoma.
When asked Friday if he expected Saunders to return to his jobs, Taylor paused and said: "Not this year. I just think his illness, I mean, it's serious. At this point, if he came back I still think he'd have a hard time to recover all his energy and all that because he has been in the hospital for a long time."
Upon announcing his diagnosis in mid-August, the Timberwolves originally deemed Saunders' absence short-term – and far more importantly, his cancer "very treatable." But the 60-year-old was hospitalized several weeks later despite finishing initially prescribed rounds of chemotherapy, and updates on his health have been troublingly unavailable in the interim.
This latest news lends credence to whispers from Minneapolis that Saunders' condition has taken a turn for the worse. When asked how often he'd been able to visit his longtime friend and employee in the past few weeks, Taylor simply told the Star Tribune that he's "aware daily of what's going on."
Assistant Sam Mitchell, who was named Minnesota's interim coach last month, will serve in that role for the duration of 2015-16.
We'll keep you updated as news on Saunders' status becomes available. Get well, Flip!
(Via Star Tribune)